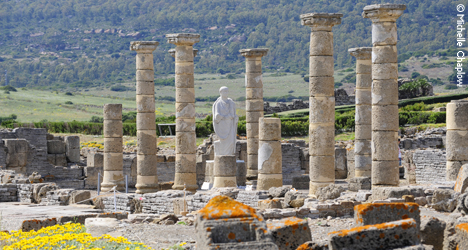 Baelo Claudia is an ancient Roman town situated on the Costa de la Luz, some 15km north of Tarifa, next to the town of Bolonia and the beautiful beach. Its history lies in the trade routes serving Europe and North Africa - the town's strategic position on the coast near the Straits of Gibraltar made it a crucial stopping-off point between the two continents. The ruins of Baelo Claudia, with its impressive temple, forum and basilica, and especially the large fish-salting factory, show how important the town was.
Search Hotels Near Baelo Claudia
Deriving its wealth from the fishing industry, Baelo Claudia supplied the popular Roman delicacy, garum (fish paste) to the whole Roman Empire. It was thriving at the time of Emperor Claudius (41-45 AD), who gave the town his name.
By the second century the town was in decline and was nearly destroyed by an earthquake. By the sixth century AD, Baelo Claudia was abandoned.
Baelo Claudia is stunningly located, with a backdrop of a golden sandy beach and the blue sea, and has an excellent visitor centre (see below).
The town follows the classic urban planning model of Rome, with streets running from east to west, and north to south; you can still walk along remaining parts of these. Main attractions to be seen at the site include:
Basilica
Theatre
Thermal Baths
Temple of Isis
Aqueducts
Salting Factories (currently being restored)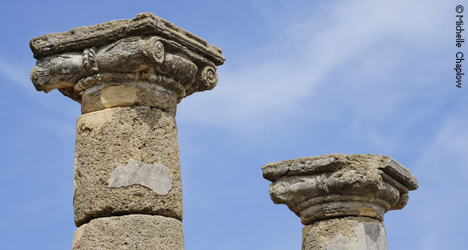 Baelo Claudia Visitor Centre
This is housed in a simple, stunning building overlooking the sea; you pass through it before entering the archaeological site. It has interactive displays to explain about the city's geographical location and context (important nearby cities included Cadiz and Malaga), in terms of shipping routes (both rivers and sea) and other communication within Hispania. You can also learn about society and daily life, including funerary rites and religion, and see the recreation of a Roman bedroom. Baelo Claudia's economy was based on fishing, so the fish-salting factory - located in the lowest part of the town, right on the beach, for easy delivery of ingredients - was key to its success. With each audio-visual presentation, there are artefacts to complement, such as funerary urns and fishing equipment.
You can walk round the site following the suggested route, which takes you from the museum, past the east aqueduct and towards the salting vats on the seashore (still being restored as of 2011). Then you can see the forum and the basilica (with many columns intact), followed by administrative buildings and shops. Further along, the path takes you to the market and baths, and finally, at the top of the town, the theatre - with its complex system of doors and passageways, for each section of audience, arranged into three areas by class - and temples.
Tel 956 10 67 968/7
OPENING HOURS
1 Jan to 31 Mar: Tue to Sat 9:00 to 17:30 hrs, Sun and Hols 9:00 to 15:30 hrs.
1 Apr to 15 Jun: Tue to Sat 9:00 to 19:30 hrs, Sun and Hols 9:00 to 15:30 hrs.
16 Jun to 15 Sep: Tue to Sat 9:00 to 15:30 hrs, Sun and Hols 9:00 to 15:30 hrs.
16 Sep to 31 Dec: Tue to Sat 9:00 to 17:30 hrs, Sun and Hols 9:00 to 15:30 hrs.
Monday Closed
Local Holidays (Tarifa) 16 Jul & 8 Sep: 9:00 to 15:30
Holidays Closed: 1 Jan, 6 Jan, 1 May, 24 Dec, 25 Dec, 31 Dec.
FEE
Entry is free to EU citizens on production of an ID card. Otherwise the entrance fee is 1.50 euro.
LOCATION
Address: Ensenada de Bolonia s/n, Tarifa, 11380 (Cadiz)
Directions: Take the N-340 main road and at km 70.2 turn off onto the CA. P8202 Local road and continue until you reach the village of Ensenada Bolonia. Continue straight on rather than turning left to the beach and in 500m you will see the visitor centre and its Car Park on the left hand side.
Download information leaflet in PDF (400kB)