Riding Displays
There are some stunning equestrian displays in Andalucia, probably the most famous of which is the Real Escuela del Arte Andaluz in Jerez. A spectacular display similar to the Spanish Riding School in Vienna... not to be missed!
Real Escuela Andaluza del Arte Ecuestre - Jerez
The Royal Andalusian School of Equestrian Art, whose spirited performances take place every Thursday during the summer at the riding school, adjacent to the historic 19th century Palacio de las Cadenas. More>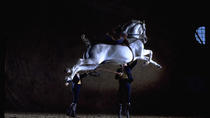 Unique show, "How the Andalusian Horses Dance", is an equestrian ballet accompanied by quintessential Spanish music and 18th century styled costumes. Based upon Classical Dressage, Doma Vaquera (country-style riding) and traditional equestrian chores. At Fundación Real Escuela Andaluza del Arte Ecuestre. Tuesdays and Thursdays 12.00 hrs 90 min show.
Tickets from 21 Euro.

Escuela de Arte Ecuestre - Costa del Sol
Equestrian shows can be arranged for private groups and incentive programs. Public shows have been held from time to time. More>
El Ranchito
El Ranchito, La Colina Torremolinos (bypass turn-off at Hotel El Pinar).
Display of dressage and horsemanship by Andalusia horses, also the option of combining the show with dinner accompanied by a flamenco show. More>
Club Hípico El Ranchito have a spectacular horse show base don rhythm and discipline and music called "Ritmo a Caballo". The authentic horse ballet takes place every Wednesday at 17:45h (as it has dome for the last 22 years. Choreography includes Doma clásica y Vaquera, to Spanish music. The show lasts about 90mins and includes 20 horses. .
Tickets from 21 Euro.

Escuela de Arte Ecuestre - Costa del Sol
Equestrian shows can be arranged for private groups and incentive programs. Public shows have been held from time to time. More>
Search Hotels in Andalucia