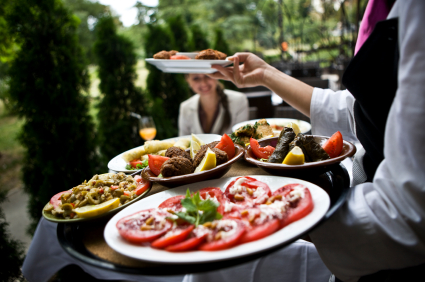 Casinos | Discos | Music Bars | Restaurants | Shows | Tapas Bars
Tapas Bars
"Granada is one of the last towns in Spain where you still get a free tapa with every glass of wine or beer. We have our earliest record of this marvellous tradition from King Alfonso 10th "El Sabio" (whose wisdom extended also to music and poetry, as lovers of the cantigas de Santa Maria are well aware).
Alfonso advocated always nibbling some food while drinking wine; and several centuries later another great monarch, King Felipe II, went so far as to pass a royal decree requiring tavern keepers to accompany each glass of wine with a tapa or "cover" - a round slice of sausage served on top of the glass like a lid - to reduce public drunkenness. Of course, this excellent habit is still the reason why one rarely sees a drunk Spaniard, even though they drink virtually around the clock"
Destinations
Málaga City
See our guide in the Malaga City Section.

Estepona
See our guide in the Estepona Section.

Cordoba
See our guide in the Cordoba section.

Sevilla
See our guide in the Sevilla section.

Ronda
See our guide in the Ronda section.

Torremolinos
See our guide in the Torremolinos section.

Jerez
See our guide in the Jerez section.

Granada
See our guide in the Granada City section.