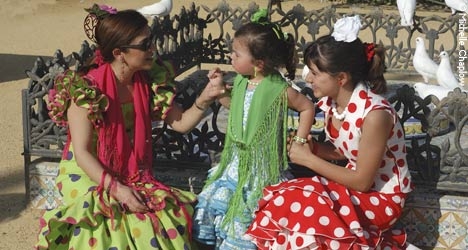 How to get there
Car: don't even try to park near the Feria, unless you have a micro-car like a Smart. Instead, leave it at the Charco de la Pava car park, and catch the shuttle bus to the main recinto.
Taxi: predictably, they hike their fares during the Feria. If you don`t leave at peak time (from about 2am) you should be able to get one.
Bus: the best option, if you live, or are staying in, the centre. The C1, C2 and 41 all go to the recinto, and operate 24 hours a day.
Metro: the nearest stops are Plaza de Cuba and Parque de los Principes
Horse and carriage: arrive in style, and pay through the nose - you won't get much change out of 100 euro, but you'll feel like a lord.
Practical dress tips for ladies
If you're wearing a flamenco dress, use its hidden pocket under the outer skirt layer (so you don't have to flash your knickers) for essentials such as sunglasses, keys, mobile phone, plus a map of the recinto to find your friends´ casetas - published in newspapers or available from tourist offices and information desks.
Some people prefer to wear comfortable shoes, such as trainers, with a long flamenco dress (as most are) - they´ll only show when you´re dancing. This is especially true if it's raining, as the streets soon turn to mud. You'll be dancing, and walking around, for many hours, and you´ll appreciate them even more as you join the bus queue at 5am. Obviously you won't be able to tap your shoes on the wooden floor as you dance sevillanas, but then you can't have everything.
Each caseta has a loo, but the queues can get very long, and the facilities aren't always well maintained, so be warned.
Seville Feria Dates:
The Feria usually starts on a Saturday and runs nine days to the following Sunday night. Officially it kicks off at midnight on the Monday night with the alumbrado.
Seville Feria Dates
Feria de Abril Special Tour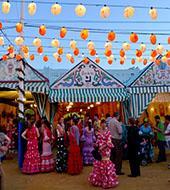 Be surprised by the world famous FERIA DE ABRIL. The annual festival or fair of the Sevillians. We take you to the wonderful world of this special festival with all its legends and traditions. An experience that you simply can not miss if you are in Seville this period. Absolutely not!
Approx. 2hrs - 21 €

Search Hotels near Seville Feria