The illuminated entrance to the Seville fair.
The Seville Fair's Amusement Park
The Seville April Fair takes place in the Los Remedios neighbourhood in Seville on grounds covering 1.2 million square metres. Part of this area is set aside every year for the amusement park known as "Calle del Infierno" or "Hell's Street", in English. This is where all the rides, shows, circus events and other big time entertainment takes place.
The Seville Fair's amusement park is designed for all ages with a kiddy area full of mini-rides and other suitable attractions for the smallest fairgoers. For the older, and especially more adventurous, visitors this corner of the fair offers not only all the standard carnival rides, but also attracts some of the latest novelties every year.
While the main attraction at the Seville Fair will probably always be the drinking, dancing and eating that takes place in the Casetas, most people take some time out now and then to get a thrill on Hell's Street, where else?

Seville Feria Dates
Feria de Abril Special Tour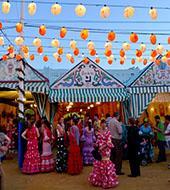 Be surprised by the world famous FERIA DE ABRIL. The annual festival or fair of the Sevillians. We take you to the wonderful world of this special festival with all its legends and traditions. An experience that you simply can not miss if you are in Seville this period. Absolutely not!
Approx. 2hrs - 21 €

Search Hotels near Seville Feria