The Church of San Pedro, perched in a perilous cliffhanger of a position.
Arcos de la Frontera
One of Andalucia's most dramatically positioned pueblos blancos (white villages), Arcos balances atop a rocky limestone ridge, its whitewashed houses and stone castle walls stopping abruptly as a sheer cliff face plunges down to the fertile valley of the river Guadalete below.
Declared a national historic-artistic monument in 1962 in recognition of its exceptional architecture and impressive location, the old town is a tangled labyrinth of cobbled streets that lead up to a sandstone castle, the Castillo de los Arcos. As you'd expect from such a spectacular vantage point, there are exhilarating views over the town and the rolling plain below.
Although its time under the Moors was one of its most successful, Arcos has had a long history of occupation, as shown by the discovery of numerous archaeological remains from the Neolithic, Bronze Age, Tartessian, Phoenician and Roman periods. Plentiful water and its superb defensive hilltop location were the main attractions for settlers.
Airport Transfers

Jerez airport shuttles & private transportation
Book your direct and hassle-free transfer from Jerez Airport to Arcos de la Frontera (and from Arcos de la Frontera to Jerez Airport) now. Choose minibus or private car with driver.

Sevilla airport shuttles & private transportation
Book your direct and hassle-free transfer from Sevilla Airport to Arcos de la Frontera (and Arcos de la Frontera to Sevilla Airport) now. Choose minibus or private car with driver.
Accommodation
Hacienda Faín Viejo
Splendid private country residence in Arcos de la Frontera. Impeccable setting for weddings, celebrations, refined corporate retreats and all types of special events.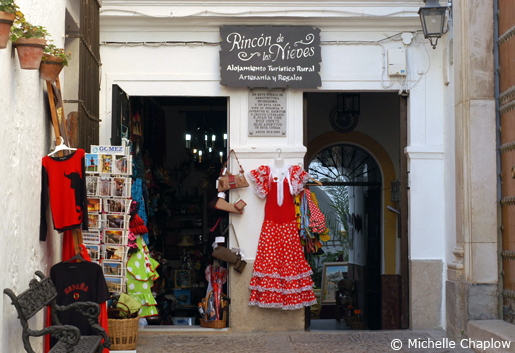 Quaint Souvenir shops in Arcos de la Frontera.
Arcos's population of 28,000 is divided between the newer town on the lower slopes of the ridge and the old town, which you reach by following Cuesta Belén up the hill. In the heart of the old town is the cobbled Plaza de Cabildo, its picturesque situation somewhat marred by its dual function as a car park. On the southern side of the square there are some stomach-churning views, where the mirador (viewpoint) ends in a steep 150m-high cliff
Among the most memorable of Arcos's pretty and often strikingly narrow streets are the alley-like Calle Cuna and Calle Maldonaldo, lined with elegant palacios built by the town's 18th-century nobility and overhung by wrought-iron rejas of windows.
Tapas bars in the old town are concentrated on or near the central Callejón de las Monjas. Try the Mesón El Patio, an atmospheric cave-like bar near the Santa María church that serves good-value tapas. If you want something more formal, one of the most upmarket restaurants in town is El Convento on Marques de Torresoto, which is in a 17th-century palace and has plenty of game dishes on the menu. The terrace at the luxurious Parador on Plaza del Cabildo is the place to go for a leisurely drink in style and enjoy the best views in Arcos.
Down below the town is the Guadalete river lined with olive and orange groves. There is also a reservoir (embalse), the Lago de Arcos, which is good for a swim in summer. Part of the reservoir is a protected area, the Cola del Embalse de Arcos Natural Area.
TOURIST INFORMATION
The tourist office (turismo) is on the Plaza Cabildo, 956 702 264. (Mon-Sat 10.00-14.00 and 15.30-19.30, Sun 10.00-14.00). Ask here for details of a guided tour (in English) of the old town. There is also an information kiosk on the Paseo de Andalucía in the newer part of town.