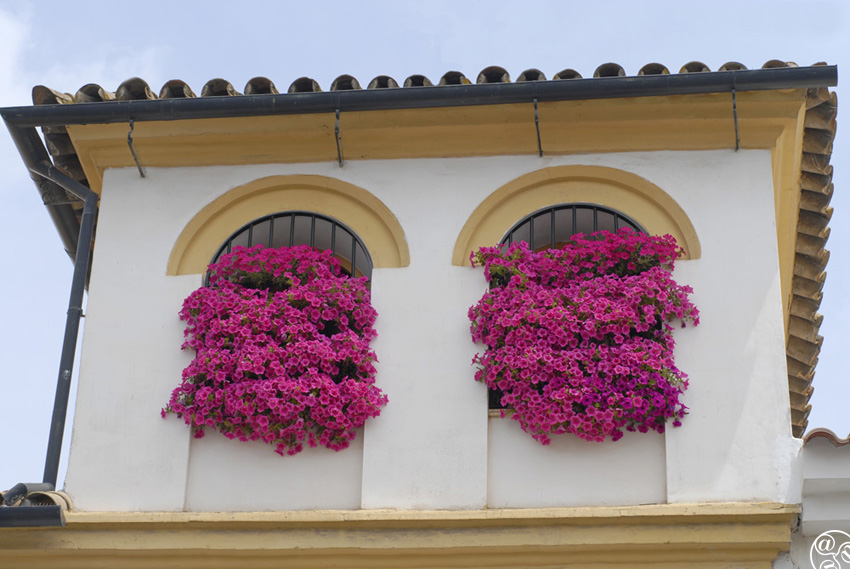 Hanging bougainvillea - Puente Genil
Puente Genil
The name of this Cordoba province village, or some might call it a town, obviously comes from the bridge that was constructed over the river Genil in the XVI century. A later bridge was constructed later the same century by Hernán Ruiz.
Numerous Middle Paleolítico objects have been found nearby in the locations of Fuente Alcalde, Peñuela, Quebradas, Rabanal, Torrecillas, Las Mestas y Yeguas.
In the village the
Convento de la Victoria
, is XVII century in baroque style. In the
local history museum
and the
Palacio de Congresos y Exposiciones
are stored interesting objects. Other place of interest are the XIV century parish church
Nuestra Señora de la Purificación,
and the
San Francisco de la Asunción
church.
Semana Santa
(Holy week) plays and important part in the handicrafts of Pente Genil. The locals use tin plate to make spears, swords, and helmets, and use fine embroidery on the holy week religious garments. Besides this handicrafts are ceramics and metalwork. .
Fine wine is one of the products of this town. Local dishes are flamenquines, sausages, donuts, porridge and quince jelly.
Although the actual fair is held from 15 to 19 August, the most important holiday in Puente Genil, is Easter, affectionately called "Mananta" and has been declared of Tourist and Cultural Interest. On 3 May the Easter Chiquita is held exclusively for kids. On 25th of April there is a pilgrimage in the name of San Marcos, the patron of the town.
Puente Genil is 70km south of Cordoba. It has two train stations. The futuristic looking one, 5km west of the town called Puente Genil-Herrera (after the village nearby) on the Malaga to Cordoba AVE High speed train route. Buy
AVE train tickets
online. The old station in the centre of the town is on the Bobadilla to Cordoba railway line was closed in June 2013 as passenger trains were stopped, the line is open to freight. More about
Puente Genil-Herrara railway station
.
Search hotels in Puente-Genil