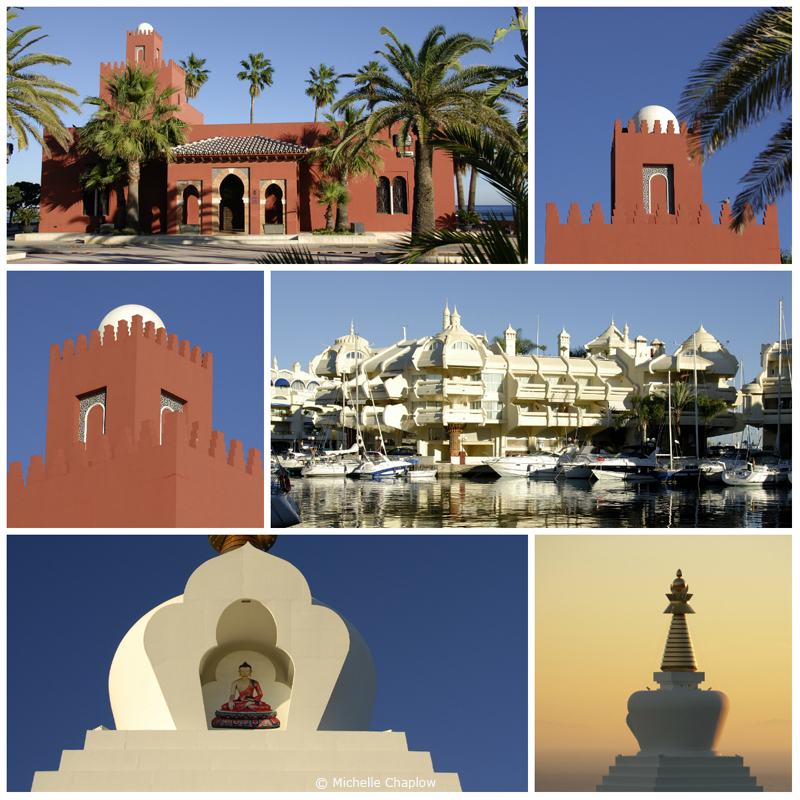 Benalmadena has such a lot to offer both visitors and residents © Michelle Chaplow
Hotels | Airport Transfers | Hostals & Hostels
Overview of Benalmadena
Covering an area of almost 30Km², and with an official 30,000 inhabitants, Benalmadena is just 19 kilometers from Malaga Airport. It's easy to reach from both Malaga capital and International Airport by road, train or bus and its privileged position looking out onto the Mediterranean Sea, it is little wonder that it has grown so rapidly in size over the last 20 years and become so popular - especially with the British. It is always lively, but the busiest time of year is during the hot summer months, when holidaymakers swell the population by more than triple - up to 100,000 people.
Self-catering in Benalmadena. More >
Hostals & Hostels in Benalmadena. More >
The best restaurants in Benalmadena. More >
Things to see in Benalmadena. More >
Excursions from Benalmadena. More >
Bus services in Benalmadena. More >
This area offers an easy lifestyle and a comfortable climate (minimum temperatures of 5º and a summer maximum of 35º) with the light sea breezes. Many thousands of British families have bought holiday homes and a large number of them have settled down permanently to live the life of their dreams.
Hotels

Med Playa Hotels
Med Playa Hotels offers a choice of 4 hotels in the Costa del Sol. All our hotels offer great value for money and excellent locations!
Airport Transfers
Shuttle Direct Benalmadena Transfers
Book now your direct and hassle free airport transfer to Benalamdena and other destinations in Andalucia
Benalmadena is split into three very distinct areas:
Benalmádena Pueblo
(The old village)
Despite the influx of foreigners, the Pueblo has managed to maintain a certain degree of decorum in the midst of the massive amounts of building works and construction developments that now surround it, where not so long ago it was rough countryside
Arroyo de la Miel
The busy commercial town centre separating the village on the hill from the sea front. Arroyo has grown rapidly, due greatly to the excellent train service running between Fuengirola and Malaga, as well as good road connection.
Benalmádena Costa
The coastal area with many hotels, beaches and the award winning Marina, with excellent port facilities, fantastic nightlife and the fabulous Aquarium.
There is fun for all the family in Benalmadena port.
With the huge number of resident and visiting foreign Tourists to Benalmadena and the Costa del Sol in general, the variety of types of restaurants is enormous. There are many English, Scottish and Irish pubs, most of which have live big screen sporting events. You have the choice of all nationality restaurants, including, Chinese, Italian, Dutch, Lebanese, etc. There are also plenty opportunities to try out the local dishes and the best place to go is along the beach or to the Marina and visit a "Chiringuito" Beach Bar) where fresh fish dishes are served up with a wonderful chilled wine or a refreshing glass of sangria. For information on the Tourist Office visit our Benalmadena Costa page. More >.
Art Galleries
Culture Centre art gallery, Plaza de Austria, Arroyo de la Miel has continual exhibitions by local artists. Open weekdays from 10.00 to 14.00 and from 16.00 to 20.00.
The Bil Bil Castle art gallery in Benalmádena Costa, also run by the municipality, has occasional exhibitions. Open evenings.
A unique exhibition of art and artefacts from ancient Mexico and the Central Andes is displayed at the Museo de Arte Precolombino Felipe Orlando.
Avenida Juan Luis Peralta 49. Tel. 952 448 593
Open Tuesday to Saturday 9.30 to 13.30 and 17.00 to 19.00, Sunday and holidays 10.00 to 14.00
Getting around Benalmadena
Just like most other reasonably sized towns Benalmadena has a bus service that connects it to other places along the Costa del Sol and directly to Malaga. The Malaga to Fuengirola railway has a train station in the Arroyo de la Miel district of Benalmadena. Car hire is well worth the money for the flexibiliy to visit locations..
Tourist Information Office
The Town Hall (Ayuntamiento), Antonio Machado, 10. 29630. Benalmádena Costa.Tel (+34): 952 442 494