In total 20 galleries from around Andalucia and beyond showed their works at Artsevilla.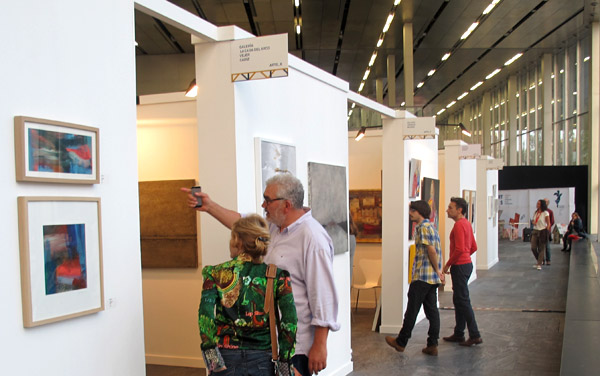 A week ago Seville held its first-ever contemporary art fair, Artsevilla, on 15-18 October. Previously, three BIACS festivals (Bienale Internacional de Arte Contemporaneo de Sevilla) took place in the city in the
Cartuja
/
CAAC
, in 2004, 2006 and 2008 - no prizes for guessing why there weren't any more after that. The biennal attracted big international names such as Tracey Emin and Richard Serra, but wasn't quite successful enough to establish itself permanently as the world economy suffered. So it was a cause for optimism to see 20 galleries attending - from Seville, as well as other towns and cities around Andalucia such as Malaga, Chiclana (Cadiz), and Albolote (Granada); major Spanish art centres Madrid, Valencia and Barcelona; and even as far afield as South America - Bogota in Colombia and Santiago de Chile. I went to visit on Saturday evening with my kids, after a Star Wars exhibition conveniently located in a shopping centre opposite – the art fair was at FIBES, the conference and exhibition centre in eastern Seville. These are some of the works which grabbed us:
Colombian artist Alejandro Prado used a negative painting technique - here seen through an iPad.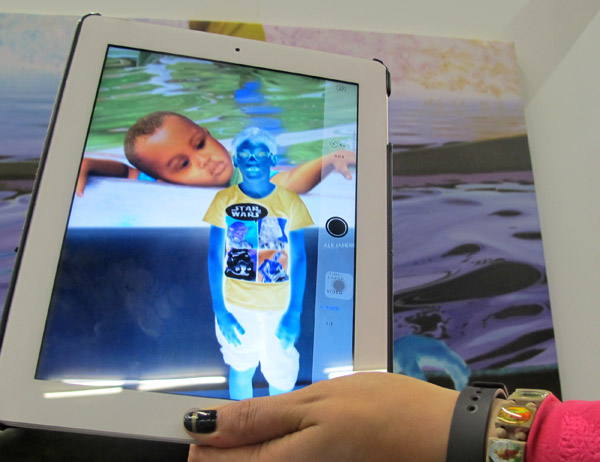 Alejandro Prado
's negative paintings, whereby he paints in "negative" colours – and then you view the work through an iPad (General/Accessibility/Invert Colours) so that red reverts to blue and dark tones to light ones. The picture we looked at has a young dark-skinned boy in a swimming pool, leaning on the edge. In the positive version, seen through the iPad, his red Tshirt becomes blue, and his face is now visible. It was fun getting the kids to stand by the painting and take a photo using the "Invert Colours" setting, so that the painting was positive and the child negative. But I still can't decide if this in-technique, which I also saw in other galleries, has more novelty than artistic value. Is it just a gimmick, albeit a striking one? They had come all the way from Sabine Gallery in Bogota, which also displayed other works which used futuristic and high-tech effects. A work inspired by iconic Velazquez painting
Las Meninas
- 1960s Pop Art style.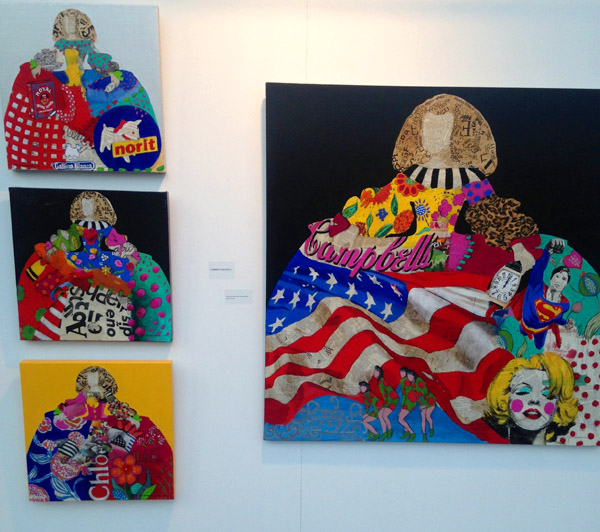 Colour was also what attracted us to the Las Meninas-inspired paintings of
Carmen Casanova
at the stand of Herraiz Gallery in Madrid. These are lively collage-type paintings of women with outlines of the wide-skirted dresses from Velazquez's famous royal scene, but decorated in zingy-bright collage-style with flamenco spots, iconic logos and images such as the Stars and Stripes, Martini and Campbell's Soup. An interesting take on one of Spain's best-known works of art.  
Galician artist Mortango's Divas and Dogs series was one of the show's big hits.
  Another popular trend in contemporary art is the repeated motif panel, with similar themed images. The new artist
Marcango
, from Black Cube Gallery in Barcelona, did just that with Divas and Dogs. The former were four pneumatically-curved ladies side by side; the latter, a panel of 24 small pictures, all same basic shape, wearing sunglasses and a collar, overlain with different colours and details - At first glance they seem, fun simple, almost childish, but then you see a darker side: from wedding veil and bishop's robes, to behind bars, in purdah, and violent images of hanging, explosive suicide vest, knives and so on. This relatively new gallery (2008) has shown the likes of Warhol, Koons, Opie, Bacon, Hirst, Mapplethorpe and Banksy, so this young Galician – he's only 22 years old - could be an artist to keep an eye on. His gallery claims that Marcango's were the most photographed works of the fair, with queues of people to see them at certain times; when I was there, I had no problem. Black Cube was one of the biggest commercial success stories, selling 40 works, including all 28 of those by hot young talent Marcango, for whom the gallery is the sole representative. More Divas, which couldn't fit into the stand at Artsevilla, are now on sale at 5000 euros each.  
Guillermo Summers (G) with his Forget Your Troubles and Dance series.
Guillermo's tree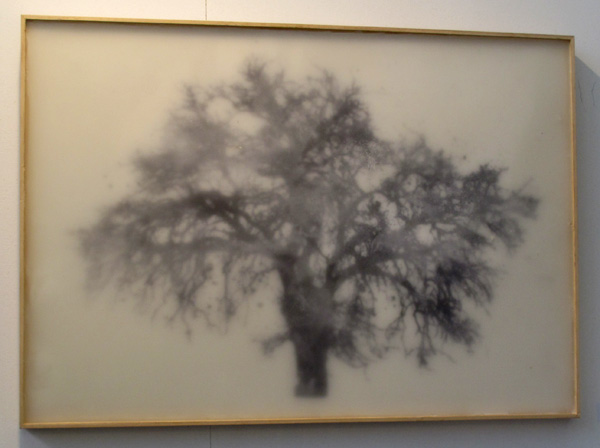 Another painter who caught my eye was
Guillermo Summers
, from the Kreisler Gallery in Madrid. If his name is familiar, that's because he bears the same name as his father, a well-known Sevillano script-writer and TV presenter (junior adds a G after his name). Guillermo Summers G uses an unusual type of handmade paper from Nepal, called "lokta", after the high-altitude wild shrub from which it is made, which only grows above 2300m. Lokta paper has a visible web of fibres which lend it a natural, organic look and feel, while being unusually durable. Bizarrely, when I was travelling in Nepal nearly 30 years ago, I bought some lokta paper with a Buddha image printed on it, which I still have it somewhere. Guillermo paints beautiful shadow figures of women dancing, with an oriental look, called Forget Your Troubles and Dance. I though they were a little like Indonesian dancers, and also Rodin-ish too (GSG agreed). Another painting of his, a tree, was faded and dream-like, very mystical, bringing to mind the huge oak tree in the Oscar-nominated Terrence Mallick film,
The Tree of Life
, with its first 30 or so minutes of swirling psychedelic images.  
Lola tried out Azucena's shoe-sculpture-seat.
For children, anything they can interactive with is the key to art. So the negative paintings grabbed them, and they also liked the shoe-sculpture-seats by
Azucena Mati
, who is from a nearby town to us. The white one, in strong but light fibreglass with a beautiful design painted on it, and the wooden one, provided a welcome rest spot for two weary children who had been wielding light sabres for the past two hours. Azucena also designed some beautiful, elegant tables, made of white Corian (a hard-wearing surface material made of acrylic resin) inlaid with oak, produced here in Andalucia, which were used in gallery areas and elsewhere around the fair.  
Using the cardboard taburetes (stools) as building blocks.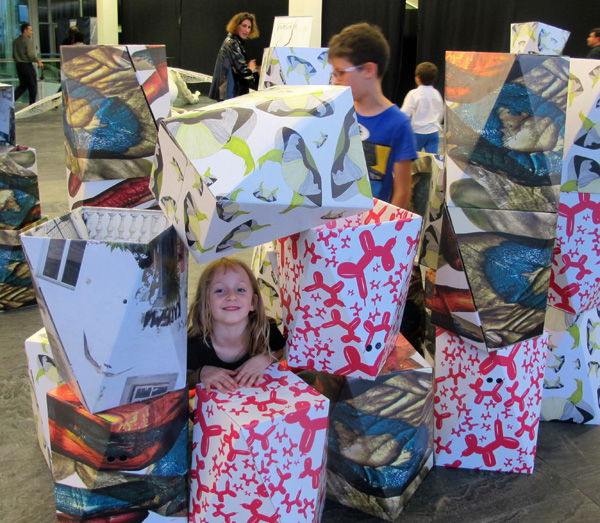 And finally, continuing with the theme of keeping the kiddos happy, at one end of the ground floor, we found a huge area with a stack of printed cardboard blocks. It turned out they were stools, which come flatpack and are then folded into furniture, strong enough for an adult to sit on, and resistant enough for children to use for building dens. Not only that, but the printed designs covering the stools were by young artists and collectives, including
elRespirador
's balloon dog (we bought one of these to take home). Nearby was a long metal seat, ideal for me to sit down and decide what to see next, while they let off some steam, and did some construction/design practice. According to the local media, with around 8000 visitors, and the aforementioned sales, this Artsevilla has been deemed enough of a success to ensure a second edition. Considering Seville's inferior position to Malaga, as regards cutting-edge visual culture, this is quite an achievement, not to mention a cause for celebration.