Marbella
Marbella is known as a glamorous resort town and is a favourite location with the rich and famous, boosted by foreign residents who are seduced by the lifestyle. But there's plenty for ordinary folk to see and enjoy too in southern Spain's answer to St Tropez.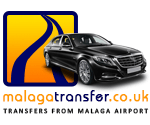 Get from Malaga airport to Marbella for only 66 euro. Book now at MalagaTransfer.co.uk and get a 10% discount on round trip transfers.
MARBELLA OVERVIEW
The old town with its narrow cobbled streets and flower-filled plazas is packed with delightful shops and art galleries selling pretty clothes and accessories, and handmade wares. One of the prettiest spots is the fabled orange tree-filled Plaza de los Naranjos, which is located just off the main street and is home to the 16th-century town hall and tourist office, where you can pick up a detailed map and other visitor information. For more contemporary fashions, Puerto Banus has all the top international designer stores.
Marbella's history stretches back to Roman times - you can see beautifully preserved mosaics at a villa and baths near the town.
In terms of eating out, Marbella's gastronomic scene is second to none, with everything from vegetarian and vegan cafes, to beachfront chiringuitos, and Michelin-starred restaurants.
And of course the beaches are second to none - most visitors come to Marbella to enjoy the sun, sea and sand, which has been drawing expatriate communities since the 1950s when Prince Alfonso de Hohenlohe fell in love with the place and built a beachfront house, drawing all the starriest Hollywood celebs.
If your visit inspires you to consider living in Marbella, have a look at the neighbourhoods or districts that make this such a charming place to live or perhaps visit on an excursion and decide afterwards. Don't miss Puerto Banus.
Destinations