Mijas Pueblo
One of the jewels of the Costa del Sol is the beautiful little village of Mijas, which nestles comfortably in the mountainside at 400 meters above sea level about 10km from the coast. Of the ten thousand population, there are so many foreign and English speaking residents in and around the village that the Town Hall has a very helpful Foreigner's Department, which caters for the needs of those residents who do not speak Spanish.
Book Tours in Mijas Pueblo
When you wander through the narrow cobbled streets of this Andalucian village, you can understand what has attracted foreigners over the years. Many artists and writers have made it their home, enjoying the benefits of an excellent all year round climate, without being part of the busier, more commercial coastal towns just 7 kilometres down the mountain side. Despite its huge popularity with tourists, Mijas Pueblo has somehow managed to retain much of its traditional Andalucian way of life, the locals displaying their unabashed passion for all things festive and an unmistakable relaxed outlook.
The craft shops have some wonderful hand made pottery and often affordable paintings and prints by acclaimed local artists. A carefully chosen holiday memento could turn out to be a sound investment.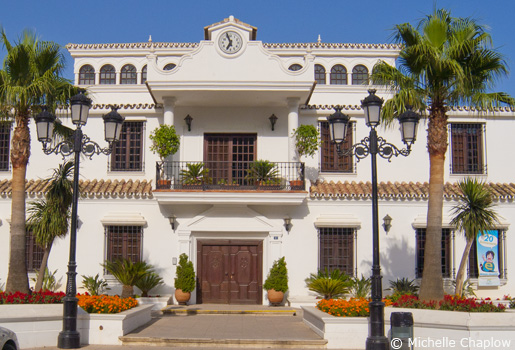 CAR HIRE
Hire a car is best way to get around! Travel with ease and enjoy the beautiful views! Consult our general Car Hire page for the best deals within Andalucia.
Mijas Pueblo, the Andalucian White Village)
Mijas Costa (covering 12 kilometres of resorts along the coast including La Cala de Mijas)
La Cala de Mijas is a former fishing village on the coast and is popular as it still retains its village atmosphere.
Las Lagunas (Modern, commercial area with local small industry)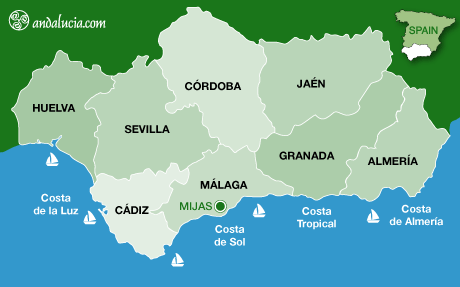 Destinations