Hotels | Airport Transfers | Hostals & Hostels
Overview of Benalmadena
The town of Benalmádena covers an area of almost 30 kilometres and extends from the Sierra de Mijas down to the coastline of the Mediterranean.
Situated between the towns of Torremolinos and Fuengirola, Benalmádena is just 19 kilometres from Málaga Airport and is connected to all of the coast's major resorts by the local train and bus services.
Rich in attractive beaches, gardens, theme parks and a stunning marina, Benalmádena is one of the most popular tourist resorts on the Costa del Sol.
The population (61,000 according to the INE census of 2010) is concentrated in three main centres: Benalmádena Pueblo, Arroyo de la Miel and Benalmádena Costa.

Med Playa Hotels offers a choice of 4 hotels in the Costa del Sol. All our hotels offer great value for money and excellent locations!

Book your direct and hassle-free transfer direct from Málaga Airport to your hotel or holiday-rental and return. Choose from minibus to private car with driver.
Benalmadena comprises three very distinct areas:
Benalmádena Pueblo
(The old village)
Benalmádena Pueblo is the old town, an attractive sleepywhite village perched in the mountains with panoramic views of the coast. More>
Arroyo de la Miel
Arroyo de la Miel is at the heart of Benalmádena, between the Pueblo and the Costa. This area is popular with tourists because it offers the postcard image of Spain with all the facilities of the 21st century. More>
Benalmádena Costa
Benalmádena Costa,which is where most of the town's hotels and nightlife is found, has almost 10 kilometres of beautiful beaches, from secluded coves and nudist areas, to the family focused beaches with plenty of activities. More>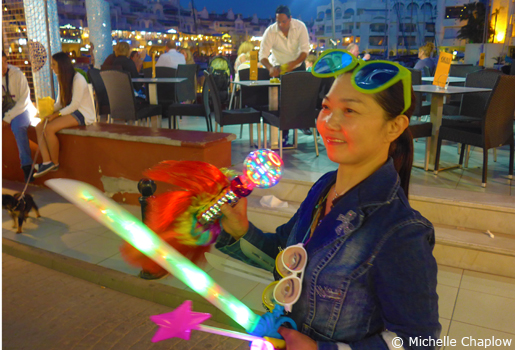 There is fun for all the family in Benalmadena port.
With the huge number of resident and visiting foreign Tourists to Benalmadena and the Costa del Sol in general, the variety of types of restaurants is enormous. There are many English, Scottish and Irish pubs, most of which have live big screen sporting events. You have the choice of all nationality restaurants, including, Chinese, Italian, Dutch, Lebanese, etc. There are also plenty opportunities to try out the local dishes and the best place to go is along the beach or to the Marina and visit a "Chiringuito" Beach Bar) where fresh fish dishes are served up with a wonderful chilled wine or a refreshing glass of sangria. For information on the Tourist Office visit our Benalmadena Costa page. More >.
Getting around Benalmadena
Just like most other reasonably sized towns Benalmadena has a bus service that connects it to other places along the Costa del Sol and directly to Malaga. The Malaga to Fuengirola railway has a train station in the Arroyo de la Miel district of Benalmadena. Car hire is well worth the money for the flexibiliy to visit locations..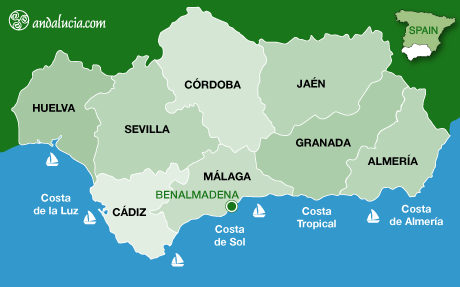 Destinations