The Costa Tropical
The Costa Tropical of Granada province consists of particularly picturesque beaches, and is far less crowded than its popular neighbour, the Costa del Sol.
The Costa Tropical is the name given to the coastline of Granada province, it is located just to the east of Nerja and the popular Costa del Sol. This stretch of coastline was given its' name due to the effects of a micro climate that gives the weather characteristics of a sub tropical environment.
Along much of the Costa Tropical, mountains run right down to the beach forming a series of stunning headlands and protected coves and beaches, the horseshoe shaped bay at La Herradura is a lovely unspoilt example. Due to such a feature, this coastline is very popular among climbers and hikers alike, not to mention those visiting to turn their hand to one of the many sports and water sports this coast is famous for.
In coves east of Punta de la Mona, water sports and scuba diving are popular, thanks to the variety of sea life and clarity of the water.
The white village of Salobreña is worth a visit. Here you will be torn between visiting the moorish castle and the beach. The successful survival of sugar cane plantations here confirms the name Costa Tropical.
Almuñécar is one of the largest towns on the Costa Tropical and not surprisingly is host to a number of excellent attractions, well worth a visit, like the San Miguel Castle, for example.
To the east of Costa Tropical is Costa de Almeria.
Destinations on Costa Tropical
See and Do in The Costa Tropical
Book Hotels on Costa Tropical
Map of Provinces and Coasts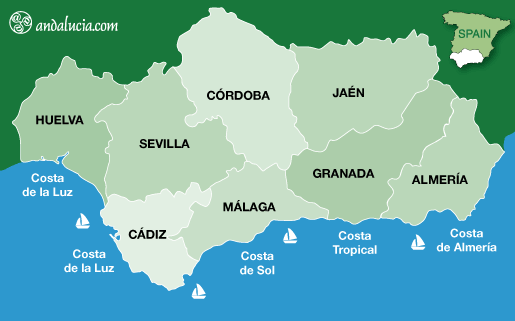 Map of the provinces and coasts of Andalucia
Destinations