<< West to La Herradura beaches                                         East to Salobreña beaches >>
Almuñécar - Beaches
The Costa Tropical boasts some magnificent beaches and the town of Almuñécar is no exception, here is the list going from west to east.
playa de cotobro
A lovely beach to the west of Almuñécar town with dark sand and pebbles. The beach is backed by a palm tree-lined paseo maritimo with plenty of shops and cafes and a large hotel with stunning sea views.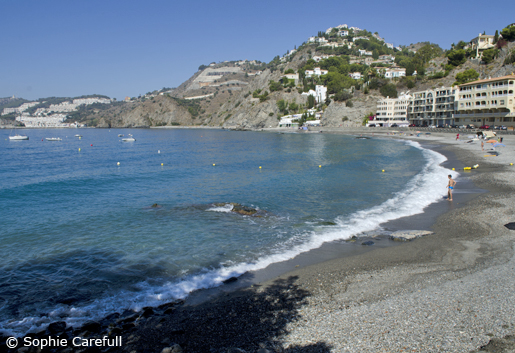 Playa de Cotobro is a sheltered bay with clear waters.
playa de san cristobal
Almunecar's best-known and largest beach, Playa de San Cristobal is 1km long and about 45 metres wide and has lots of facilities including lifeguards, showers, sunbeds and parasols for hire and you can also rent pedalos here. There is a large selection of restaurants and bars just behind the beach in Almuñécar itself.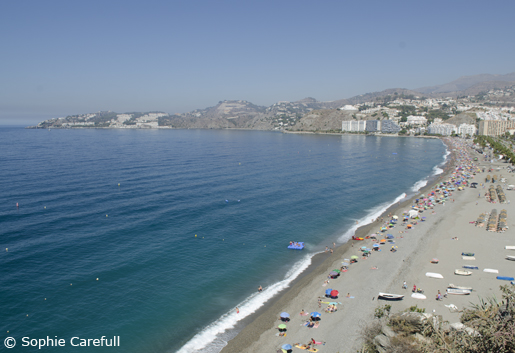 Playa de San Cristobal is the longest beach in Almuñécar and has great facilites.
playa puerta del mar
Backed by several blocks of flats and Almuñécar's old town, Playa Puerta del Mar is one of the town's nicest beaches, with grey sand and some pebbles. The beach is almost 1km long and 40 metres wide, benefitting from the same facilities as Playa de San Cristobal.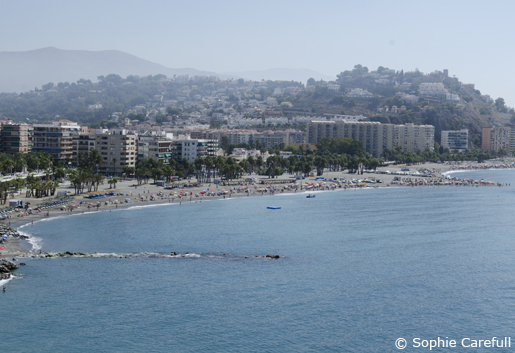 Playa Puerta del Mar is backed by the old town of Almuñécar.
playa velilla
This beach is 1.5km long and about 50 metres wide with grey sand and pebbles. It is backed by an attractive paseo maritimo full of restaurants and some tall blocks of flats. It has all the usual facilities, plus windsurf and diving equipment rental and jetski hire.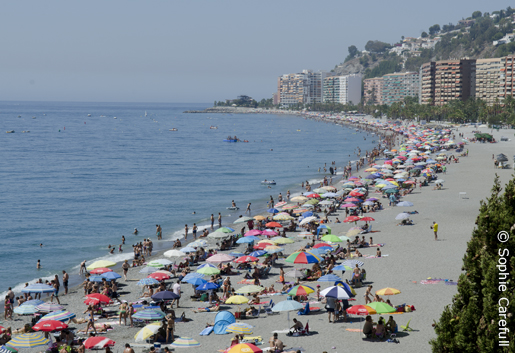 Playa de Velilla is a long beach with lots of good facilities.
playa del tesorillo
This beach is in fact part of Playa Velilla but it refers to the section just beneath the Torre del Conde de Guadiana on Punta de Jesús.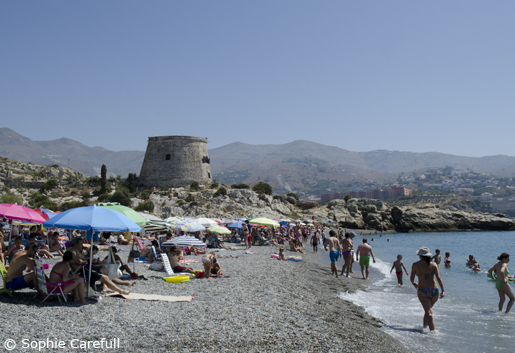 Playa del Tesorillo is the section of Playa de Velilla beneath the old watchtower.
playa pozuelo
Just to the east of Punta de Jesús, this beach is smaller at only 200m long and 40m wide and the area surrounding it is less built up. Having said that, there are still plenty of facilities available here, as well as restaurants and bars very nearby.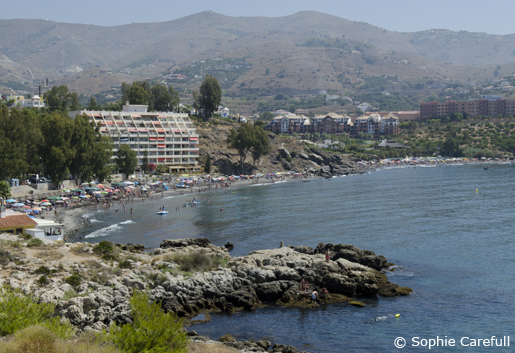 Playa del Pozuelo is smaller than the other beaches in Almuñécar and has clear waters great for diving.
<< West to La Herradura beaches                                     East to Salobreña beaches >>
Destinations