almuñécar
Becoming increasingly popular among foreign residents. It is an attractive coastal resort town that is particularly popular in the summer with Spanish holiday makers. The interesting seafront promenade is divided into many sections by the small coves and headlands that are typical of this part of the Costa Tropical. There are also several longer beaches, all with great facilites making them perfect for families.
Alfareria del Castillo - The Castle Pottery
The town's last existing pottery, adds to the many historic sites in the San Miguel area and the preservation of the tradition of Almuñecar's pottery, as well as providing a tourist attraction.
Local potter Antonio Fernandez in attendance at the Alfareria del Castillo. The pottery still makes the famous fish and chicken shaped pots and other objects similar to those found in archaeological excavations as well as providing visitors with a magnificent view of "El Majuelo" botanical park. Open Monday - Friday 11:30 - 14:00 and 16:00 - 19:00 hrs
Entrance is free.
peñón del santo
At the east end of Playa de San Cristobal, next to the statue of Abderramán I, there is a hill (about 30 meters high) with steps zig-zagging up to the top where there is a large cross. It's well worth walking up there because you'll enjoy spectacular views of the beaches and the Peñones de San Cristobal which are shown in the photo below.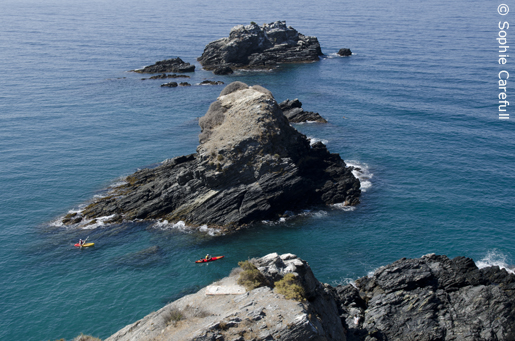 Walk up the Peñón del Santo in Almuñécar for stunning views of the Mediterranean.
Art Galleries
A regular series of contemporary art exhibitions are held at the Galería de Arte Nexo.
Calle Príncipe 12. Tel. 651 494 185
Open Tuesday to Sunday from 11.00 to 14.00 and 18.00 to 21.00.
Paintings, ceramics, photographs and engravings are on display at the Galería Jerkim.
Puerta de Granada 10. Tel. 958 883 222
In the building housing the local library and music school, the Centro Cívico, there is a gallery which holds regular exhibitions of art and other cultural activities, including the annual international Andrés Segovia guitar competition.
Tourist OfficE
Information and maps can be obtained from the friendly tourist office near the Parque del Majuelo - its stylish building and relaxing gardens are a tourist attraction in themselves. More>.
CAR HIRE
Hire a car is best way to get around! Travel with ease and enjoy the beautiful views! Consult our general Car Hire page for the best deals within Andalucia.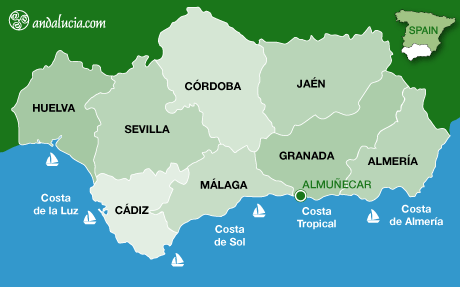 Destinations