Los Guájares
by Paz Rosada, translated by Emma Cattle and Fiona Flores Watson 
Los Guajáres is comprised of three small villages: Guájar Faragüit, Guájar Fondón and Guájar Alto. The area is located in a small, beautiful subtropical valley, formed by the river Loba. Its name comes from an Arabic word for abrupt, steep and difficult to access, describing the mountain below which the villages are situated. Visitors will enjoy amazing landscapes in this unique natural environment.
The most important village is Guájar Faragüit, whose name means "steep garden". The Iglesia de San Lorenzo is a great example of the Mudejar architecture built in the area after the reconquest of Granada. It was constructed over an old mosque in the early 16th century and was one of the few churches not affected by the Guerra de los Moriscos in 1568.  It's also worth visiting El Castillejo, a previously inhabited almohad fortification from the 13th century situated on a hill close to the village.
At the right hand side of the river Toba, you will find the second village of Los Guajáres: Guájar Fondón. The Iglesia de San Antonio de Padua is definitely of interest to tourists due to its history. It was originally built over an old mosque continuing the Moorish style, however it was set on fire during the Morisco revolts and had to be reconstructed at the start of the 17th century. It has one nave, a beautiful altarpiece and an interesting neoclassical tabernacle.
Guájar Alto is the highest village in Los Guajáres, as well as the smallest and the furthest from the coast. From an artistic point of view, the most interesting building here is the Iglesia de la Encarnación. It was built in the early 16th century in Mudejar style, but had to be reconstructed after the Alhama earthquake at the end of the 19th century. At the high altar, visitors can see the neogothic altarpiece.
On the outskirts of these three villages visitors should also try and see the network of old almohad acequias (irrigation channels), which are still used today for irrigation and cultivation of crops.
GASTRONOMY
Traditional cuisine in Los Guajáres includes dishes such as ensalada de tomates secados al sol (sun-dried tomato salad), migas (a dish made with breadcrumbs, garlic, olive oil and other ingredients), choto en salsa (veal in sauce) and various stews. Also worth trying are the tasty homemade sausages.
FIESTAS
The most important fiestas in Los Guajáres take place in February for Día de la Candelaria. Residents organise a pilgrimage and traditional food, not forgetting palmitos (palm hearts). In Guájar Faragüit they celebrate this same fiesta but under the name Día de los Palmitos.
DIRECTIONS
Los Guajáres is 62km from Granada city. Take the A-44 (direction Armilla-Motril), then join with the N-323 and finally take the GR-SO-18 to the centre of Guájar Faragüit.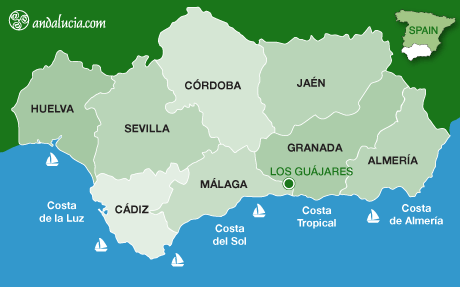 Destinations