Gualchos - Castell del Ferro
Take me to Gualchos Hotels page
This Granada municipality is made up of two areas, Gualchos and Castell de Ferro, is especially interesting for its natural environment; the main attractions are the beaches and cliffs.
Beaches
Of the various beaches here, Cala de la Rijana is the most well-known, and is especially popular with scuba-divers - it's one of the best places on the Costa Tropical to practice scuba-diving . Sport fishing is often practiced in this area. Sotillo - Castell beach was awarded a blue flag in 2021.
Things to See
From an architectural point of view, the most interesting building is the Castillo de Castell de Ferro, a Roman tower which formed part of the defensive line in the Nasrid era.
GASTRONOMY
For visitors who want to try the most traditional delicacies of the gualcheros, ask for sardines and typical stews made with fish and home-grown vegetables. 
 
FIESTAS
The most important fiesta takes place in September, with the patron saint's festival in honour of San Miguel Arcángel; in August, las Fiestas del Turista; in May, la Fiesta de las Cruces; and in February la Fiesta de la Candelaria. 
 
Hotels in Gualchos
Book Hotels in Gualchos
DIRECTIONS
Gualchos y Castell de Ferro is 85km from Granada city. Take the A-44 (direction Motril) and join first with the N-323 and then with the N-340 which takes you directly to the village.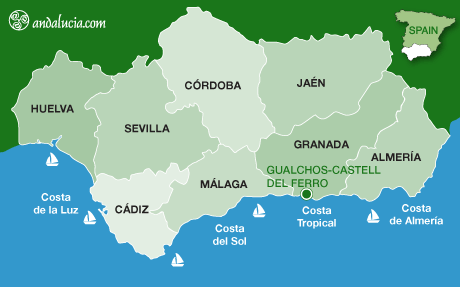 Destinations