This village in Granada province has a lot to offer visitors. It is the perfect place to enjoy nature, a rich cultural history and the Mediterranean Sea, which is less than 20km away.
The origins of this village are in the Arab dynasty. The village streets are white and narrow; they haven't changed much from their Arabic origins, helping you to imagine life here all those years ago.
Albondón is situated in la Sierra de la Contraviesa, which is parallel to the Sierra Nevada. The winters here are mild and the summers fresh.
The most important monument in Albondón is la Iglesia Parroquial de San Luis. This church is in honour of the village patron saint, the French King Louis IX.
Walking the streets of Albondón, you can see a monolith, erected in honour of Inés Rodríguez, a healer who lived here and was very important to the village.
For those in search of nature and adventure, Albondón is a paradise for hiking and climbing.
In Albondón, the villagers make their own fabrics. Visitors can purchase items such as rugs made from worn-out cloths.
GASTRONOMY
The star product of Albondón is it´s wine, which has been exported internationally for centuries. In la Bodega de José Castillo, visitors can sample and enjoy this local specialty.
FIESTAS
Las Fiestas de San Luis take place on 25 August and are the main fiestas in Albondón. During this day, the village becomes a battleground recreation of the fight between the Moors and the Christians. Also celebrated is la Romería de San Isidro, in May, this celebration consists of a pilgrimage followed by wine and migas (a dish made with breadcrumbs, garlic, olive oil and other ingredients).
DIRECTIONS
Albondón is 120km from Granada city. Take the A-44, and when you reach Motril change to the N-340 and then the A-345.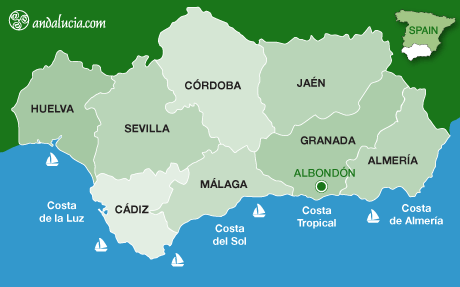 Destinations