In this small village time appears to have stood still. The land and streets are just as they were during the Muslim dynasty, when the village first began. The narrow, steep streets and typically constructed houses are made with traditional materials such as slate, and have not changed in centuries. Although Neolithic and Roman remains have both been found here, the most important remains are what was left by the Moriscos (Moorish who converted to Christianity after the reconquest).
In the village centre lies the most important monument in Almegíjar: la Iglesia parroquial (parish church), from the 17th century. Inside the church, there is a painting of the village patron saint, el Cristo de la Salud. In the Notáez area of the village, there is a perfectly conserved chapel built over an old mosque where you can enjoy amazing views over the Granada mountain range; vehicles are not permitted here, in order to help preserve the beauty of the gardens found inside.
The nearby Sierra Nevada national park and el Cerro de la Corona are perfect for hiking.
In Almegíjar, there are many local crafts similar to other villages in the Alpujarra area. Ceramic products are often made here, continuing the tradition of pottery making in the village.
GASTRONOMY
Muslim influence is also present in the village cuisine, particularly in its desserts and sweets. Home grown vegetables and meat products are central to the diet in Almegíjar.
FIESTAS
The patron saints days are in the middle of September, and in Semana Santa, the patron saint San José returns as part of the procession. In Notáez the most important fiesta is in August, marked with a pilgrimage to the local chapel.
DIRECTIONS
Almegíjar is 87km from Granada city. Take the N-323 until Lanjarón, then change to the A-348 and then to the GR-413.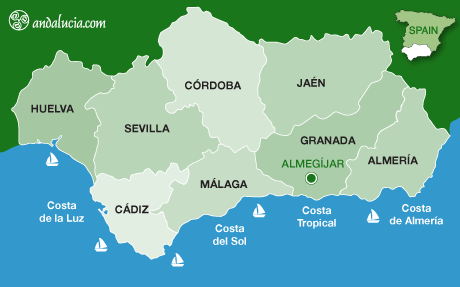 Destinations