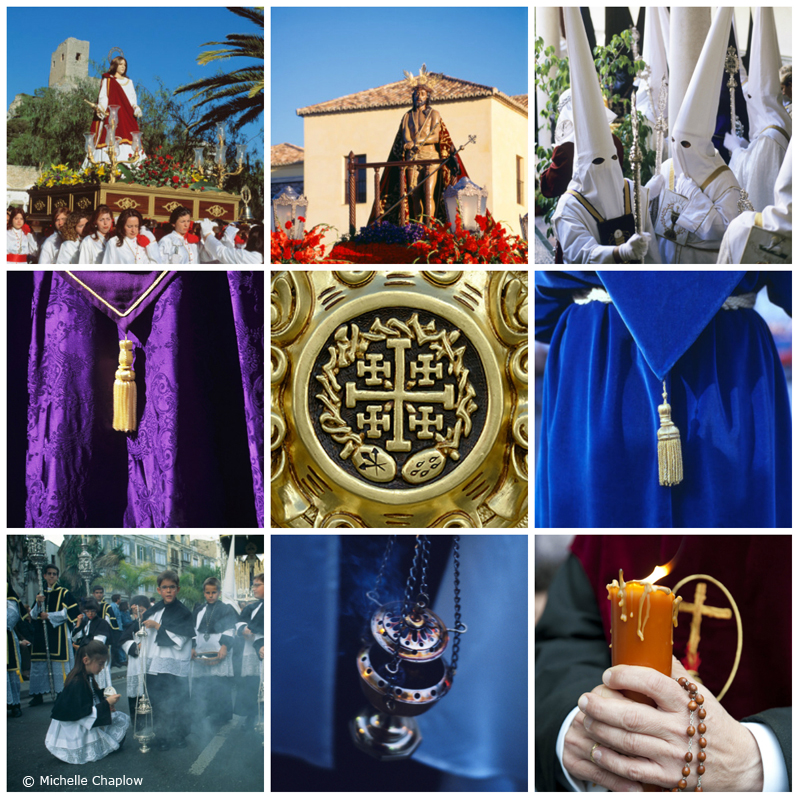 Holy Week, Semana Santa, in Andalucia is an event that literally transforms towns and cities across this region
Semana Santa Dates
2020 Sun Apr 5 - Sat Apr 11
Cancelled in all locations

2021 Sun Mar 29 - Sat Apr 3
2022 Sun Apr 10 - Sat Apr 16
2023 Sun Apr 2 - Sat Apr 8
2024 Sun Mar 24 - Sat Mar 30

Holy Week, Semana Santa, in Andalucia is an event that literally transforms towns and cities across this region. Processions of elaborately decorated floats with Jesus and Mary statues, groups of pointy-hood wearing Nazarenos (penitents), and shrill brass bands, walk slowly through the streets, from their parish church to the cathedral and back. It is an amazing experience, and a great time to come to Andalucia if you want to imbibe some deeply-held traditions that have less to do with religion than with social groupings and rituals. Many people avoid this time of year to visit Andalucia, but if you come prepared, both for the crowds and the inflated prices, then it is well worth the effort. You will never see anything like it again.
Semana Santa / Holy Week Dates. Most of the processions take place from Palm Sunday (Sunday before Easter Sunday) to Good Friday and Easter Saturday. there are very few processions on Easter Sunday and none on Easter Monday. Maundy Thursday and Good Friday are public Holidays in Andalucia.
If you want major pageantry and rich, bejewelled Virgins, Malaga or Seville are the cities to head for. Seville has 60 brotherhoods, some with as many as 2000 members. The biggest stars of the show are the Virgins of Macarena and Triana, both of which make their grand appearance at 'La Madrugada', the small hours of Good Friday.
From Holy Thursday to Easter Sunday traffic is closed off in city centres and the solemn processions take over in the afternoons (so be sure to do your shopping in the morning). The aroma of burning candles, the passionate strains of a late night saeta and the mournful trumpets that accompany images of Christ and the Virgin Mary create an other-wordly ambience that can transport even the most casual observer to another time and place.
But you don't have to be in a big city to get the Semana Santa vibe - villages and towns of every size have their own celebrations, and each province offers its own variation on the Holy Week theme, with many festivities declared to be of National Interest for Tourists
Learn more about Semana Santa.
History
Preparation
To understand Semana Santa in Andalucia you need to know about the cofrades.
More >
Thousands of visitors descend upon this region to enjoy the Holy Week.
More >

Post Semana Santa
Typical Foods
Every year town and city halls have to equip their crews in order to return city streets to their original splendour.
More >
Semana Santa has it's own special flavours. During this week, Catholics are not supposed to eat meat.
More >
Nazarenes
Ascetic and Passionate
The Nazarenos are the members of the cofradías who participate in the processions.
More >
This article was first published in the Andalucia, Costa del Sol Magazine.
More >
Glossary
Processions
Definitions to understand Semana Santa.
More >
These are the focus of Semana Santa, with Nazarenos, and Christ and Virgin Mary figures on flower-covered floats carried by men.
More >
Practical Tips
See it for yourself
Semana Santa tips for newcomers
More >
To get an idea of the sights and sounds of the Semana Santa
More >
Alternative Semana Santa
In some towns, traditions include dressing up as biblical figures
More >
Discover Semana Santa in the towns and cities of Andalucia.
Almería
Cádiz
You might be surprised then to learn that Almería deserves more than a short visit at this time of year.
More >
Cádiz holds tremendous, extravagant processions – on par with those of all the other provincial capitals in Andalucia.
More >
Córdoba
Granada
In numerous villages of the province, Semana Santa has obtained the government stamp of "Fiesta de Interés Turístico Nacional".
More >
No where else in Andalucia can you experience Semana Santa with the Alhambra in the background.
More >
Huelva
Jaén
The entire ambience of Huelva and many of its town and cities changes with the onset of Holy Week.
More >
Locals in Jaen capital have their very favourite float nicknamed "grandfather" (el abuelo.)
More >
Málaga
Seville
Málaga's Holy Week celebrations were declared to be interest to International Tourism in 1965.
More >
Semana Santa involves the marching in procession of brotherhoods of the church and penitents, followed by elaborate floats.
More >
Search Hotels in Andalucia