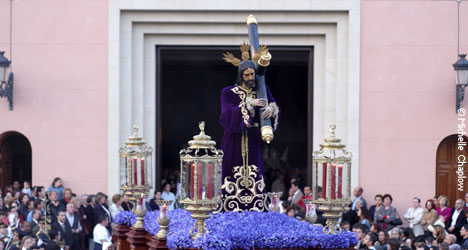 Towns and villages throughout Málaga also have wonderful processions. Photo location Estepona
Semana Santa in Malaga
Málaga's Holy Week celebrations were declared to be of interest to International Tourism in 1965 and they have also obtained the regional stamp of approval "Fiesta of National Interest". Thousands of visitors from across Spain and abroad come to follow the processions throughout the city's historic centre.
Málaga's Cofradías are active all year and regularly hold special meetings and masses with the aim of providing members with ongoing religious training as well as encouraging worship and acts of charity. The city has the region's oldest federation of Cofradías, which goes back to 1921.
Each prosesions starts from the different houses of the cofradias all around the city centre. Look out for the buildings with huge double storey wooden doors. From there they each take a different routs but all converge on the Alhameda, Calle Larios, Plaza de la Constitucion (where there is a tribune grandstand for civic dignatories) and Malaga Cathedral.  

It is possible to hire seats on the Alameda Principal. However, this must be arranged far in advance. Hotel Room Mates Larios has some bedrooms and cafe/restaurant with previliged overlooking Calle Larios and the processions. Book early!
All of the local newspapers in Málaga publish schedules for the Holy Week processions. These guides are in Spanish but usually have helpful route maps and timetables that are easy to decipher.
If you're not a fan of late night activity, then try catching some of the mid-day processions. 
ANtonio Banderas and Semana Santa in Malaga 
Every year Málaga born actor Antonio Banderas makes an enormous effort to spend Semana Santa in Málaga city where he leads the Virgin de las Lágrimas y Favores (Virgen of Tears and Favours) procession. As an example of the lengths to which this international icon will go in order to participate every year, in 2008 he flew down from London where he was filming "The Other Man". He had special permission to leave the set because, as he told press, it was written into his contract before he even started work on the movie.
Holy Week 2008 was particularly difficult for Banderas who sorely missed his father, José Domínguez Prieto, who had recently passed away. He recalled how only the year before his father had joined him on their traditional balcony on Málaga´s emblematic Larios Street. The actor's dedication to Málaga's Semana Santa celebration is yet one more term of endearment with the local population.
Antonio says, "Wearing the hood gives me a certain freedom – I'm not walking around the streets with my face visible. I'm on the same level as everyone else, exactly the same. That's what the hood is all about: hiding your identity and going from being an individual, to being part of a collective."
In this video from Semana Santa  2013, you can see, first hand how Banderas, is just another member of the brotherhood, as they all sing the hymn of Lagrimas y Favores, written by Antonio himself.
About Semana Santa, he says it's a "great ritual which... has been celebrated for five centuries", and that he would never want to miss taking part is this local tradition. Banderas has close ties to the church, as his parents were married there, he and his brother were baptised there, and he played near it from an early age. His participation in Semana Santa also extends to carrying a paso in another procession, La Esperanza, on Jueves Santo (Holy Thursday). He also enjoys watching other processions.
Semana Santa In Malaga
Below is a video of the Semana Santa from our YouTube channel.
If you don't happen to be in Malaga around Semana Santa, the Malaga Holy Week Museum is open all year-round and displays processional robes and thrones from Holy Week as well as music, art and exhibitons about the traditions.
Semana Santa Dates are written in the purple box on our Semana Santa home page
Destinations