See Semana Santa for yourself
Guide to Holy Week / Semana Santa in Andalucia
To get an idea of the sights and sounds of Semana Santa in Seville, watch this video. Under the blue cloth, which acts as a skirt for the paso (float), are 36 men called costaleros, all bent double, with padding on their necks to carry the 2000-kg float with its statues of Jesus and supporting characters. At first, you hear a man (the capataz, or overseer) shouting instructions and encouragement, then the men lift the float up and it moves off slowly.
It progresses at a dignified pace, and any changes of direction are negotiated painstakingly. The mournful accompanying music, played by the band which follows the float, is typical of almost all processions, except the few silent ones. Preceding the float are the Nazarenos, with blue pointed hoods and white robes. This particular hermandad is called La Exaltacion, and it goes out on Thursday; the section of the route you can see here is La Campana in the centre of Seville.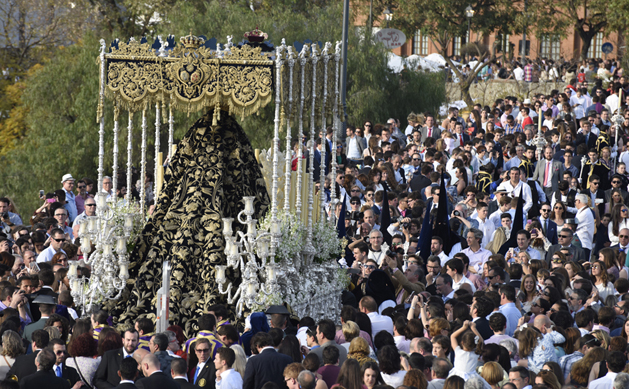 Semana Santa dates
Check dates on the info box on Semana Santa home page.
Guide to Holy Week / Semana Santa in Andalucia