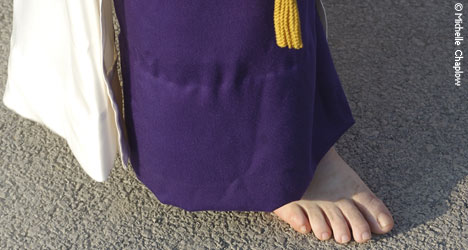 Many walk Barefoot in the Seman Santa as a sign of devotion.
Semana Santa in Huelva
Like so many others, the Holy Week processions in Huelva are certified as "Fiesta of National Touristic Interest" and thus touted as one of the best in Spain (we'll leave that to each visitor to decide). Locals undoubtedly rate this as one of their biggest and best festivals (after the carnival perhaps?).
The towns of Ayamonte, Isla Cristina and Aracena in Huelva province also put on especially spectacular processions. Throughout the province you can expect to find the traditional celebrations which schedule solemn processions throughout the week, but saving the height of the activity for Thursday, Friday and Saturday in anticipation of Easter Sunday.
As in cities across the region, the entire ambience of Huelva and many of its town and cities changes with the onset of Holy Week. You can expect traffic to be cut off to the city centre and robed members of Catholic brotherhoods and "cofradías" to be out and about as they carry out business related to the festivals and prepare for their processions.
Remember to taste the flavours of Holy Week, ask at local restaurants and bakeries for a serving of the most typical Semana Santa Gastronomy in the capital city and in each village to see how the traditional Catholic prohibition to eat meat during this time has inspired local cuisine.
Watch a Semana Santa procession
Destinations