Ayamonte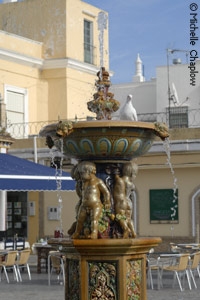 Plaza de la Coronacion, Ayamonte
Ayamonte is situated on the estuary of the Río Guadiana, second longest river in Europe. Ayamonte's development has been inextricably linked to its position on the border with Portugal and has more foreign tourists than other locations on the Costa de la Luz, partly due to its proximity to the Algarve and its position far west on the Andalusian coast. It has about 19,600 inhabitants.
HISTORY
Several settlements have populated Ayamonte including Iberians, Greeks, Romans and Arabs. There are a few possible suggestions as to the origin of the name however it is mainly believed to have come from the mound on which Iberians settled called "Aya" ('mound' in Ibero), to which the Romans later called it Mount Aya or Aya Montis.
In 1239, King Sancho II of Portugal reconquered Ayamonte, giving protection and privileges to the Order of Santiago and the village passed from one crown to the other due to its geographical proximity to the border and politics at the time.
In 1335, Ayamonte passes to Castillian hands, under the reign of Alfonso XI of Castille, creating the Marquis of Ayamonte, which until then belonged to the Count of Niebla.
Like other nearby villages, Ayamonte actively collaborated in the discovery and colonization of the American continent and Christopher Columbus received enormous welcome and support from marine expert, Rodrigo de Jerez, a local from Ayamonte.
In 1664, King Felipe IV granted Ayamonte city title, due both to its border with Portugal, and its participation in the discovery of America.
In the nineteenth century, the shortage of agricultural and livestock products, led to locals having to turn to fishing as source of income.
In 1991, an impressive new suspension bridge was opened two kilometres north of Ayamonte that took away the town's cross-border traffic on what is now a motorway linking the Algarve with Huelva and Seville. The journey from Ayamonte to Faro on the Algarve now takes a mere 45 minutes.
Hotels in Ayamonte
Book Hotels in Ayamonte
Holiday Apartments to rent in Ayamonte
Book Holiday Apartments in Ayamonte
THINGS TO SEE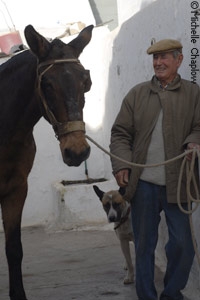 Village life in Ayamonte
Templo de Nuestra Señora de la Merced
The temple once formed part of a large convent founded by Don Pedro Pérez Maestre in 1640. The original convent was called Convento e Iglesia de la Santísima Trinidad de Religiosos Descalzos de Nuestra Señora de la Merced y Redención de Cautivos. Located on Calle Jovellanos.
Iglesia de Nuestra Señora de las Angustias
The church was built in the fifteenth century over the remains of a small chapel. It has undergone several restorations, especially after the Lisbon earthquake in 1755. Located on Calle Angustias.
Ermita de San Antonio
The chapel was founded in the sixteenth century by the guild of sailors whose income was financed, so it is believed that the wood used in the chapel may be from a tropical tree as the species could not be found. Located on Calle San Antonio.
Iglesia de Nuestra Señor del Salvador
The Mudejar church was built in 1400 substituting a primitive temple. It has undergone several restorations, especially after the Lisbon earthquake in 1755. Located in Plaza del Salvador.
Templo de San Francisco
The temple belonged to a Franscican convent founded in 1417. It housed the Sagrada Reliquia del Santo Sudario taken there by Don Francisco de Guzmán, Marquis of Ayamonte in 1578. Located on Calle San Francisco.
Parroquia de San Vicente de Paul
The chapel was built in the twentieth century to accommodate the increasing population that lived in this part of the city. Located on Calle Benavente.
Capilla Nuestra Señora de El Socorro
The chapel belonged to the children's hospital of Ayamonte and the Virgin was taken here after her original chapel had been destroyed. Calle Galdames.
Parroquia Beata Santa Ángela de la Cruz
Inaugurated on 27 October 1985, the chapel was built by locals from a warehouse. Located on Calle Sor Eloísa.
Convento de las Hermanas de la Cruz
The convent was built in 1639 and in 1878 came to the convent that was previously known as Convento de Santa Clara de Asís. Located Santa Clara.
Ayuntamiento
The town hall has two parts; one from the eighteenth century and the other from 1950-1960. The interior is decorated with tiles from Seville. Located in Plaza de La Laguna.
Plaza de Toros
The bullring was built in 1852 and remodelled in 1952. Located on Calle Marte.
Estacion de Autobus
The bus station is built in the early twentieth century where the previous train station was located. Located on Avenida Cayetano Feu.
Mercado de Abastos
The covered market was built specifically for commercial use. The ground floor has food stalls and the first floor has private shops and services. Located on Calle Prudencio G Pallarés.
El Pilar de la Villa
A large twentieth century water fountain originally used by local livestock. Located on Calle Gualdames.
Teatro Cardenio
The theatre was built in 1950 and was used as a cinema until it became too expensive and currently only acts as a theatre for cultural acts. Located on Calle Médico Rey García.
Edificio Aduanas
The building was built as a customs house in 1940. Currently it is home to the local television station. Located on Calle Muelle de Portugal.
Casa Grande
The house was built in 1745 by Don Manuel Rivero. Decorated with true Andalusia style, the house has three floors and hold many rooms including auditorium and library. Located on Calle Huelva.
Opening Times:
Monday-Friday, 09:00-14:00hrs and 16:00-20:30hrs (Winter)
Saturday, 10:00-14:00hrs (Winter)
Monday-Friday, 10:00-14:00hrs and 19:00-21:00hrs (Summer)
Saturday, 10:00-14:00hrs (Summer)
Price: Free Entrance
Tel: 959 47 06 25
Email: [email protected]
Edificio Jovellanos
The building is used for municipal information, courses and art exhibitions etc. It also has a museum called Museo Cofrade. Located on Calle  Jovellanos.
Opening Times:
Monday-Friday, 10:00-12:30hrs and 18:30-20:30hrs
Price: Free Entrance
Tel: 959 32 21 51
Museo de la Hermandad del Santo Entierro de Cristo y María Santísima en su Soledad
The religious museum is situated within the Templo de San Francisco. Located on Calle San Francisco.
Opening Times:
Monday-Friday, 10:30-13:30hrs and 17:30-20:30hrs
Price: 1.50 euros
Tel: 633 58 94 15
Museo de las Muñecas
The museum displays a huge variety of dolls. Located on Calle San Pedro.
Opening Times:
Monday-Sunday, 11:00-13:30hrs and 18:00-20:00hrs (Easter)
Monday-Sunday, 11:00-13:30hrs and 19:30-21:30hrs (July and August)
Saturday, 11:00-13:00hrs (Rest of the year, Saturdays)
Price: Adult, 2.00 euros, Children, 1.00 euro
Tel: 696 81 33 24/646 14 12 83
Email:[email protected]
Parque Zoologico
A small zoo located in Ayamonte's central botanical gardens on Avenida Alcalde Narciso Martín Navarro. The small zoo had economic problems and has taken the decision to close. By April 2019 some of the animals had been relocated and the zoo will only remain open until all the animals are relocated.
Opening Times:
Tuesday-Sunday, 10:00-20:00hrs
Price: Free Entrance
Tel: 959 32 07 37
Plazas
The centre is a good place to take a leisurely stroll, as many of its narrow streets are pedestrianised. These link small, pretty plazas (squares), which are tucked away but full of busy pavement cafés and bars serving great seafood characteristic of the Huelva Costa de la Luz. Visit the elegant Plaza de la Laguna, for a good choice of eating places with outdoor seating. From the Plaza del Baluarte you can see the Muralla Defensiva, a defensive wall built to protect the church. Ayamonte has many squares worth visiting for each one's uniqueness and originality.
THINGS TO SEE OUTSIDE THE VILLAGE
Capilla Nuestra Señora del Carmen
The chapel was built for worship and education in the twentieth century for those who lived far away from the centre of the Ayamonte.
Auditorio Municipal Amador Jimenez
Was previously the local slaughterhouse and dates to the beginning of the twentieth century. It was later restored to accommodate cultural events. Located on Pista de Valdivia.
Ferry to Portugal
Ferries still go to Vila Real in Portugal with the boat company Transportes del Guadiana, which runs regular boats from the Muelle de Portugal in the centre of Ayamonte. From Vila Real there are frequent buses to the Algarve. In the winter one ferry boat makes about 12 crossings a day each way from 09:30-19:00 hrs and departing on the hour from Ayamonte and on the half hour from Vila Real. In the summer two boats make about 25 crossings each way a day from 09:30-21:00 on the hour and on the half hour.
NATURAL  AREAS
Ayamonte is surrounded by protected areas teeming with wildlife. The Marismas del Guadiana, the marshes of the Guadiana estuary, are rich in birdlife, including herons, storks and flamingos.
BEACHES
Ayamonte has two beaches nearby: Isla Canela and Punta del Moral.More >
GASTRONOMY
Ayamonte has a specific gastronomy very much influenced by the proximity to neighbouring Portugal such as bacalao a la Portuguesa (Portuguese cod) and arroz con castañas (chestnut rice). Due to its location, fish and seafood is a must, including mojama de atún (tuna), sardinas estibadas o en "solipé" (sardines), huevas secas de atún (tuna roe), boquerones en vinagre (anchovies in vinegar) and tollo con tomate (dogfish in tomato). As for sweet treats, there is a huge variety to choose from, all mainly elaborated with almonds which is very typical from Portugal.
HANDICRAFTS
Ayamonte is most known for its hand-carved picture frames, the making of carpets and other fabrics, as well as pottery. One must not forget the tradition of the homemade pies and cakes, seen in "Pasteleria Belga".
FESTIVALS
Fiestas del Carmen
Celebrated on the 16 July in the fishing neighbourhood of Barriada de Canela.
Fiestas en Honor a San Antonio de Padua
Celebarted during the first two weeks of June in Barriada del Punta del Moral.
Fiestas en Honor a Maria Auxiliadora
Celebrated during the last two weeks of June in Barriada De Pozo del Camino.
Fiestas en Honor a Nuestro Señor y Salvador
Celebrated during the first week of August in Barrio La Villa.  
Fiestas en Honor a Nuestra Señora La Virgen de las Angustias
Celebrated the first week of September.
Festividad de San Diego de Alcalá es Patron y Abogado de Ayamonte
Celebrated on the 13 November.
LOCATION
Ayamonte is located 51km from Huelva. To get there, take the A-497 west leaving Huelva and onto the A-492. Join onto the A-49 west towards Portugal. Take Exit 125 onto the A-499 and join the N-431 until you reach Ayamonte. 
Destinations