El Rompido
Take me to: El Rompido Hotels
by Saskia Mier
El Rompido is a fishing village out on a limb, 8km from the nearest town of Cartaya. It is one of the most tranquil and un-crowded spots on Huelva's Costa de la Luz. Up until now, it has managed to remain unscathed by the tourist development that has marred other resorts along Huelva's Costa de la Luz, perhaps because of its relative distance from the new A-49 Portugal-Seville motorway, compared with the more popular neighbouring coastal towns.
HISTORY
Lithic materials found in the area suggest the existence of early Paleolithic settlements that already inhabited the mouth of Río Piedras. In 1971, 208 pieces of quartzite were found whose chronology goes from the ninth to the third millennium B.C. More>
THINGS TO SEE
El Rompido is a haven for golf lovers but also has plenty to offer for all the family. You can enjoy activities such as horse riding on the beach, sea fishing, sunset cruises, archery and karting. There is also a nearby waterpark in Cartaya.
Real de la Almadraba
The ruins of Real de la Almadraba were once used for the traditional and elaborate technique for catching Atlantic bluefin tuna dating back to the Islamic period. El Real Viejo was originally constructed in 1294 by the Dukes of Medina Sidonia and was active until 1817. Later in 1928, El Real Nuevo was set up once more using the abandoned remains by Dictator, Primo de Rivero.
Iglesia de Nuestra Señora del Carmen
The church was built in 1956 by the Consorcio Almadrabero. It was made with the leftover bricks from the Real de la Almadraba. Located in Plaza de las Sirenas.
Flecha de el Rompido
From the village there are some marvellous views across the 300m wide estuary over to the protected spit, (flecha - arrow) which is made up of sand dunes and lined with magnificent beaches on either side. You can visit the spit catching the ferry or by hiring a fishing boat for the short trip across the estuary from the village.
Ferry Tours (Flechamar)
You may also catch one of the two 'Flechamar' ferries which run from the marina everyday from April to October. They offer three different services.
Ferry to Walkway #2
Has a duration of 10-15 minutes and there is a nudist area on your right once you reach the beach. It operates from April-October.
Monday-Sunday, Port-Beach, 11:15, 12:15, 13:15, 14:15, 16:15, 17:15, 18:15hrs
Monday-Sunday, Beach-Port, 11:30, 12:30, 13:30, 14:30, 16:30, 17:30, 18:30hrs
Ferry to Walkway #3
Has a duration of 5-10 minutes and operates from June-September.
Monday-Sunday, Port-Beach, 10:15, 10:45, 11:15, 11:45, 12:15, 12:45, 13:15, 13:45, 14:15, 14:45, 16:15, 16:45, 17:15, 17:45, 18:15, 18:45, 19:15hrs
Monday-Sunday, Beach-Port, 10:30, 10:00, 11:30, 11:00, 12:30, 12:00, 13:30, 13:00, 14:30, 14:00, 16:30, 16:00, 17:30, 17:00, 18:30, 18:00, 19:30hrs
Taxi-Boat Service
Out of timetables there is also a taxi-boat service, choosing your time of departure and return, enjoying the beach for as long as you like. Email to consult fares. Tel: 959 39 99 42
Email: [email protected]
Boat hire
Puerto Nautico Marina
Tel: 669 17 78 19 or 620 54 45 17
NATURAL AREAS
Río Piedras has extensive salt marshes along its banks and these, along with coastal pine woods, sand dunes and tidal creeks, make up the protected reserve called the Paraje Natural Marismas del Río Piedras y Flecha del Rompido. With its wide variety of habitats it has a rich array of plants and birds. To access the Paraje Natural, take a footpath from the lighthouse towards Caño del Tendal to the Pradera de San Isidro.
BEACHES
El Rompido sits on the Río Piedras river estuary, a stretch of water sheltered from the open sea by a spit, known as the Flecha del Rompido. The beach here is one of the best in Andalucia.
GOLF
El Rompido is home to two 18 hole courses, El Rompido Golf - Norte and El Rompido Golf - Sur which were opened in 2006 and 2003 respectively and so may not have the prestige of other courses but being so close to the sea leads to fantastic views over most of both courses.
WHERE TO STAY
There is a good selection of hotels in the area and surrounding villages of Nuevo Portil and Islantilla. There is also a campsite just outside the village.
WATER PARKS
Aquopolis
A chain of water parks located all over Spain, one of them being in Cartaya. It has a variety of different attractions as well as places to eat, cloak rooms, a shop and the option to hire sun lounges and floats. The park is great fun for family and friends. More>
Carretera Cartaya- Rompido, Km 3 (Cartaya)
Tel: 959 39 26 60
GASTRONOMY
El Rompido has several bars situated on the waterfront including lots of fish restaurants. As a popular point of destination for vacationers and tourists, the supply of fresh good quality fish and seafood is endless.
FESTIVALS
Feria El Rompido
Celebrated last weekend in July in honour of Nuestra Señora del Carmen. 
LOCATION
El Rompido is located 23km from Huelva. To get there, take the A-497 leaving Huelva. Take Exit 10 to El Portil/El Rompido/A-5051. Take the 2nd exit at the roundabout, continuing on and taking the next right turn onto A-5052. Continue until you reach El Rompido.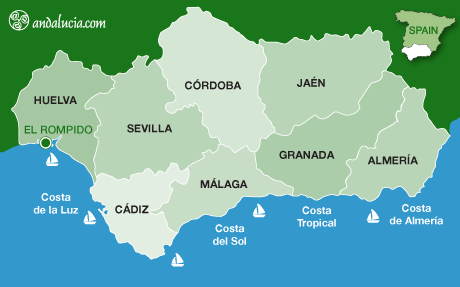 Destinations