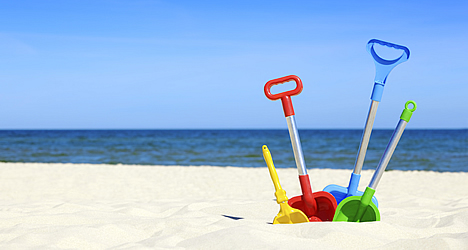 Costa de la luz - huelva
The Costa de la Luz (Coast of Light) in Huelva Province runs from the Guadiana river, which forms the border between Portugal and Spain, to the Guadalquivir river in the east.
This part of the Atlantic coastline boasts long, unspoilt sandy beaches backed by sand dunes, as well as many protected coastal reserves.
Many Spanish families from cities such as Seville take their holidays in these seaside towns. Renting an apartment or booking a hotel in July of August, high season, can be tricky; however in other months, such as May, June and September, the weather is warm or even hot, and the beaches are considerably less crowded. All resorts have a good selection of restaurants offering well-priced, fresh fish and seafood dishes.
Some towns, such as La Rabida, have fascinating history - Columbus stayed at the monastery here, and you can see replicas of his three ships in a dock which recreates the day when they set sail on the momentous voyage which culminated in the discovery of the "Indies".
Access is to this coast is good, along the Seville-Huelva-Ayamonte A-49 motorway interestingly named 'Autopista del Quinto Centenario' ( 5 Century Motorway)  
Destinations
Facilities
rio tinto mines
Named after the river which flows through the region - itself named for the reddish streaks that colour its water - Rio Tinto is a landscape like no other - in fact, it is similar geologically and environmentally to the moon. Find out more about this currently unused silver and copper mine, open to the public for tours. See more here.
things to see and do
ON THE TRAIL OF COLUMBUS IN HUELVA
Huelva and its environs is a Mecca for those interested in Christopher Columbus, with a number of significant tourist attractions relating to the famous explorer. See more here.

punta umbria
Punta Umbría is the largest resort on the Costa de la Luz and the nearest to Huelva City. It has some magnificent beaches, great seafood restaurants and is on the edge of Paraje Natural Marismas del Odiel, an impressive wetland reserve.
natural parks and areas
See all Natural Parks in Huelva here.
Huelva City
Huelva City, with its surrounding oil refineries and industry, is not the most attractive of Andalucia's regional capitals. Generally speaking, however, this coast has escaped some of the worst development seen along other costas in Andalucía. The city centre is a pleasant place with many pretty plazas, absorbing historical monuments and, as you'd expect from a city with a bustling port, a wealth of seafood bars and restaurants.
golf on the costa de la luz
about costa de la luz (Huelva)
Although exposed, the beaches are not as windswept as the Cadiz section of the coast. The shoreline is punctuated by small fishing ports and modern resorts popular with mainly Spanish visitors. These resorts are separated by marshes and river estuaries, making travelling rather circuitous.
In July and August, the resorts are packed to bursting point. If you enjoy a lively atmosphere, this is the time to come, but it's essential to book accommodation in advance. Outside the summer months, the pace slows down.
With comparatively fewer visitors than other coastlines in Andalucía, Huelva's Costa de la Luz can still offer some quiet beaches where you can find a secluded spot, even in summer. Try the Playa de Castilla, east of Matalascañas that runs alongside the Parque Nacional de Donaña, a 25km-long stretch that is only accessible on foot. Alternatively, there is the 22km-long beach, also part of the Playa de Castilla, which runs between Matalascañas and Mazagón, which is extensive enough to find a bit of solitude; you can park at Cuesta Maneli, which also has some naturist areas. To the west of Huelva City is the Barra de El Rompido, a spit of land which you can reach from La Antilla or El Rompido.
Just on the border with Portugal is Ayamonte, a fishing port that used to serve as a through-route to Portugal with its daily ferry to Vila Real de Santo Antonio across the Guadiana river. This has been superseded by the new suspension bridge that crosses the river just north of Ayamonte, but the town is still worth a visit for its pleasant squares and pretty, narrow pedestrianised streets in the centre. There are noticeably more foreign tourists here than in other resorts along Huelva's Costa de la Luz, probably due to its proximity to the Algarve.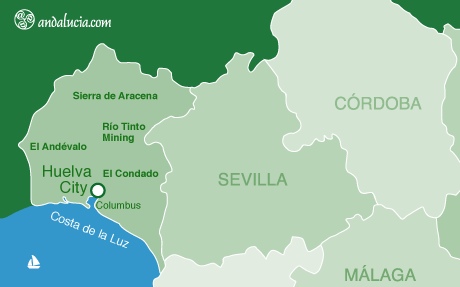 Destinations