Andalucia Beaches
Andalucia has over 1000 Km of coastline, most of which is sandy beach - long sweeps of soft, golden sand, or hidden rocky cove. It's not surprising, then, that "ir a la playa" is the single most popular recreational activity for tourists and residents alike.
Sunbathing on beaches is popular from easter or mid May until late September - this is when the chiringuitos (beach bars) are open, with sunbeds set out in rows next to their parasols, along with paddle-surfing boards, and water sport facilities in certain zones. Beach access from the sea for motor boats is identified by yellow buoys. Beach activity increases noticeably during the school holidays (3rd week of June to 2nd week of September), and the peak season is July and August, when many residents from Madrid, Cordoba, Granada, Sevilla and other cities in Spain arrive on the coast for their annual seaside holiday. During this period, parking can be difficult.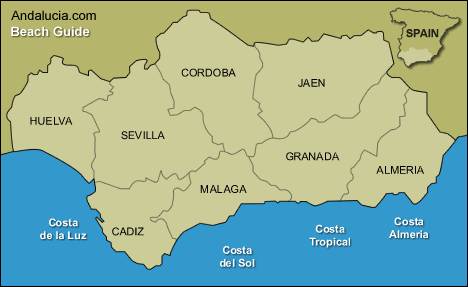 Coasts of Andalucia
About beaches in Andalucia
During the winter season the beaches are enjoyed mainly by walkers, joggers and fishermen. Sunbathing is often possible in the winter months as well. On one of the frequent blue sky and non-windy days it will be warm enough to sunbathe and you will have the beach to yourself. Of course, in the most popular resorts like Torremolinos you won't be alone.
There are no private beaches in Spain, you have the right to walk the entire coastline. Recent laws prohibit construction too close to the coast. "Acceso público a la playa" is a sign you may see. It means 'public access to the beach' probably a right of way over private land leading to the beach.
The coastal strips or costas have been given names. General information about them can be found on the following pages. The Mediterranean seaboard is graced by the Costa de Almeria, Costa Tropical and the glamorous, cosmopolitan Costa del Sol, while the Costa de la Luz lies along the Atlantic shore to the west of Gibraltar.
Andalucia has beaches for all tastes. Wide open golden sandy beaches backed by sand dunes are typical of the Costa de la Luz. Popular bathing beaches with showers and beach bars are typical of the Costa del Sol. Hidden coves reached by paths or tracks down from the cliffs, excellent for snorkeling and diving are typical of the Costa Tropical. Open beaches and hidden coves, some of the quietest around are typical of the Costa de Almeria.
Blue Flag
Many popular beaches have been awarded the Blue Flag, these and some other have trained life guards on duty.  This service normally operates from 11.00 hrs to 20.00 hrs from the 15th June to the 15 September.  You will notice life guards dressed in yellow and red watching out with binoculars from lookout towers. The international sea safety condition flag warning system is in force: Green = safe Yellow = caution Red = danger. 

The 'Instituto para la Calidad Turística Española (ICTE)' oversees a 'Q Tourist Quality' award system for tourist business and also includes beaches. There are about 60 Q beaches in Andalucia. Town halls that are unable to attain a blue flag for beaches often certify beaches via the 'Q' system instead. More>
BEACH RULES
In 1982 the Direction General de Puertos y Costas (a national agency to oversee ports and coastline) ruled that all beaches in Spain should be public and removed the concept of a private beach. The laws relating to what you can and can not do on the beach stem from the 1988 and 2014 Ley de Costas which defines the public nature of the beach that can not be sealed of off for a private use. A 2014 update law introduced the concept of  diferentiating 'Urban' from 'Natural' beaches. It empowers Junta de Andalucia, Consejería de Medio Ambiente (Regional Government Environment department) for the overall management and regulation, and empowers local town halls to regulate and set rules for for general use and be responsible for cleaning. 

Here are some general rules about the Andalucia beaches.You can NOT drive motor vehicles, ride horses, bring dogs or other pets (in the summer or at any time), light bonfires, have gas bottles, camp overnight, leave litter, erect advertisements, sell goods or services, use soap or shampoo in the showers, swim in yellow buoyed channels for motor boat or dingy launching or swim in marinas, swim when red flag flying. Motor boats and yachts must not enter the yellow buoyed bathing areas or come within 200m of the beach. More>
Dog Beaches
The first doggy beach in Andalucia; Playa de la Sal in Casares, at the western end of the Costa del Sol. In 2015 dog beaches nominated by town halls were La Sal en Casares, El Ejido en Mijas, El Castillo en Fuengirola, La Araña en Málaga, El Moral en Rincón de la Victoria, Playa de El Cable en Motril, la Playa de El Castillo de Mácenas en Mojácar.  In response the Junta de Andalucia decreed that town halls could not authorise dog beaches in the summer, this lead to some confusion.
In 2016 the following beaches, prepared by the town halls were authorised by the Junta de Andalucia as Dog Beaches...More>
Jellyfish
Large numbers of Jellyfish (Medusas in Spanish) have been a problem from time to time in certain warm Mediterranean beaches in the early Summer in recent years. On popular beaches a red flag will fly. 2005 and 2014 were years of high numbers.  What to do if you see jellyfish. Other than the obvious to keep away and not touch the Jelly fish in the water or on the sand, and instruct children to do likewise. In Urban beaches the Town hall will put up warning signs and life guard will warn bathers. You can always protect yourself by wearing protective clothing such as wetsuits, gloves and goggles and wear sandles. If you are stung, advise the lifegard or go to the Red Cross post (on many urban and all Blue flag Beaches) seek medical assistance or call emergency 112. More>
SHARKS
There are only very occasional reports of a shark sighting of the Malaga coast. So far there has never been an attack registered on Costa del Sol. More>