Coronavirus in Costa del Sol and Andalucia
Page and section last updated Saturday 04-07-2020 at 23.00 hrs.
Travel news
03-07-2020 British government published a list of 'Travel corridors: countries and territories exemption list'. The list includes Spain so from 10-07-2020 those arriving into England from Andalucia, Spain and any country on the list will NOT have to self isolate for 14 days. This exemption also applies to Spanish Nationals and foreign residents who wish to visit or return to England. Lists for Scotland, Wales and Northern Ireland are to be published shortly by their devolved governments.
Spain relaxed its quarantine restriction to travellers from Britain and other EU countries on 14-06-20. However all arrivals, regardless of Nationality or departure country, are required to complete a 'Spain Travel Health' form online and print the QR code and show it to immigration control.
Updated statistics
There have been 17.870 positive tests in Andalucia, up 26 on previous day and 131 in previous week. There have been 1.436 deaths in Andalucia, up 10 in previous week. Confirmed cases that required hospital admission in Andalucia total 6.322, up 17 on previous week. Confirmed cases that require intensive care admission in Andalucia number 779, up 2 in previous week.
The Costa del Sol (health district) has recorded 1.079 confirmed cases, of which 6 were in the last 14 days.  Costa del Sol (health district) has recorded 44 deaths, none in the last 14 days.
Estepona, Marbella, Mijas and Fuengirola have recorded 110, 419, 90 and 95 cases respectively since the beginning of the pandemic of which 0, 2, 0 and 2 were in the last 14 days respectively. Estepona, Marbella, Mijas and Fuengirola, have recorded 4, 15, 4, and 7 deaths since the start of the pandamit respectively.
The following municipalities in Malaga province have not recorded any cases. Istán, Tollox, Serrato, Carratraca, Alfanatejo, El Borge, in Serrania de Ronda; Gaucin, Benarraba, Jubrique, Juzcar, Pujerra, Farajan, Cartajima, Parauta, Alpandeire, Benadalid, Atejate, Jimera de Libar, Montejaque, Montecorto, Torre Alhaquime, in La Axarquia; Totalan, Macharaviaya, Iznate, Comares, Cutar, Vinuela, Canillas de Acetuna, Sedella, Salares, Canillas de Albaida, Archez, Sayalonga.
Andalucia data above released 26-06-2020
Historical data can be seen from the graphs on Confirmed cases, Hospitalised cases, Coronavirus Deaths. Read some good news stories. 

Andalucia published Confirmed Cases, Deaths for the 33 primary Health Districts and Municipalities. This info can be seen here.
News updates
21-06-2020 Spain has now opened its borders with all Europe except Portugal. This includes both the EU countries (including UK in transition) and Schengen Area countries (including Norway and Switzerland). Quarantine upon arrival has also been lifted. A dozen Flights from Spain and now Europe arrive in Malaga airport from Sunday. A Eurowings A320 from Dusseldorf was the first to land, half an hour early at 09.42 hrs. It was followed by a Transavia B738 from Eindhoven at 10.22 hrs. The first from the UK was a Ryanair B738 from Stansted landing at 13.06 hrs.
20-06-2020 Spain's foreign affairs minister Arancha González Laya told the BBC that British citizens will be allowed to enter Spain freely, without the need to self-isolate from 00.01 hrs Sunday 21-06-2020. She said the decision had been made "out of respect" for the 400,000 Britons who have second homes in Spain. UK visitors will go through a "triple check" upon arrival in Spain. They will be asked for their country of origin and to register "so we know we have a contact point to trace them", she said. They will also undergo a temperature check.
18-06-2020 British Government Foreign and Commonwealth office Advice has updated its information on travel to Spain. The advice now states: "The State of Emergency ("Estado de Alarma") declared on 14 March, will end on June 21. From this date, Spain will re-open its borders to European Union and Schengen-area countries (with the exception of Portugal where the restrictions will continue to apply up until 1 July), and travellers from the UK. This means that British nationals will no longer need to present a residency certificate to enter Spain. However general travel advise still remains "Avoid non-essential international travel" and returning travellers will need to self isolate for 14 days.
14-06-20 Prime Minister Pedro Sanchez announced Sunday that Spain will open its borders with Europe on 21st of June. This was later clarified to include both the EU countries (including UK in transition) and Schengen Area countries (including Norway and Switzerland). Quarantine upon arrival will also be lifted. At the request of Portuguese Prime Minster Antonio Costa, the border between Spain and Portugal, will remain closed until the 1st of July. Source Reuters . Visitors from other countries that are non-EU and non Schengen, will be allowed into Spain from the 1st of July if there is a reciprocal agreement in place, between Spain and that specific corresponding country.(edited 15-06-2020)
08-06-2020 All eight provinces in Andalucia, have now moved into Phase Three of the de-escalation Plan. This means that leisure travel is permitted within all Andalucia. This will enable residents of the Costa del Sol (in Malaga province), for example, to visit Tarifa (in Cadiz province)or any of the 8 provinces. Restaurants can open at 50% capacity, walking, exercise and sport is permitted at all times and beaches are open.
06-06-2020 The Junta de Andalucia has announced that it will make use of the new powers and will lift the internal provincial borders within the community. This will enable those staying on the Costa del Sol (in Malaga province), for example, to visit Tarifa (in Cadiz province) or Granada from Monday 8th June.
06-06-2020 More details about life in Phase Three. The discotheques return, but ... without dancing. Bullfights return but without spectators. The Official State Gazette (BOE) published Saturday the new "flexibilization" measures for the Phase Three which includes all 8 provinces Andalucia from Monday 8th June.
05-06-2020 Minister for Sanidad announced that Malaga and Granada province will join the other six provinces in Andalucia in moving into Phase Three on Monday 8-06-2020. This unification was at the repeated request of the President of Andalucia. Malaga and Granada provinces were only in Phase Two for a week not two. In Phase Three it is now up the the regions whether the citizens can travel between provinces for leisure. This suggests that all Andalucia and most of Spain will complete Phase Three on Sunday 21-06-2020. The EU has recommended that member countries open up their internal borders to other EU countries as soon as possible and before the end of June.
04-06-2020 Spain will lift the 14-day quarantine on incoming international tourists from 01-07-2020. Spain will be lift incoming restrictions at its land borders with France and Portugal from Monday 22 June. The Spanish government has also clarified that it intends to lift the restrictions for 'safe international mobility' on 01-07-2020. This was announced by Pedro Sánchez but no details were given.
03-06-2020 Pedro Sánchez, Prime minister passed in Congress for the sixth and final State of Alarm renewal up to 21-06-2020. By which time most of Spain will have passes stage 3 and be in the 'new normality'. After the State of Alarm there will be a spesific if Law passed by Congress and various powers and responsibilities will be returned or devolved to the Regional administrations.
Earlier News updates
23-05-2020 Pedro Sanchez, Prime Minister announced that international tourists would be able to return to Spain in July. He was not specific on date nor conditions. He basically repeated Teresa Ribera words of 21-05-2020 (see below) being conditional on secure options. He also said that Spaniards should start planning their own holidays from the end of June. La Liga and other football competitions would resume behind closed doors on the 08-06-2020 he added.
22-05-2020 The Ministry of Sanidad (Health) announced the provinces that would pass to Phase Two. In Andalucia Huelva, Sevilla, Cadiz, Cordoba, Jaén and Almeria provinces pass to Phase Two on Monday 25-05-2020. Malaga (which includes the Costa del Sol ) and Granada remain in Phase One (probably for another week). All remaining parts of Spain including Madrid, Barcelona and Castilla y Leon pass to Phase One on Monday.
21-05-2020 Teresa Ribera the Spanish Government Minister responsible for the de-escalation plan said in an interview with EFE (state press agency ) regarding the return of international tourists, "Our idea is that we could work with safe origins and destinations and this is more likely to be in July than June."
20-05-2020 A ministerial order was published in the BOE today stating that from tomorrow it will be obligatory to wear face-masks in public spaces; whether in open air or inside including shops. This is anywhere that it is impossible to maintain 2 metres social distancing.
Some people are exempt; A child under 7 years old. Those with respiratory difficulties which could be aggravated by wearing a mask. Those who have been advised against wearing a mask for justified health reasons. Those with a disability or dependency where wearing a mask causes issue.
Activities that are incompatible with the mask are also exempt. For example, eating and drinking on a public terrace. As always, causes of force majeure or a situation of need is exempt too.
Malaga and Granada provinces moved forward to Phase 1 on Monday 18-05-2020 joining the rest of Andalucia. Madrid Region and the city of Barcelona as well as large parts of Castilla y León totalling 30% of Spanish population remain in Phase 0.
On Friday morning an order was published in the BOE extending the restriction of non-essential travel for people entering Spanish territory from 16-05-2020 to midnight on 15-06-2020.
This follows a recommendation by the European Commission "to prolong the temporary restriction on non-essential travel into the EU until 15 June." However Brussels had asked member states to allow free internal movement for European citizens.
This does not conflict with the previously issued 14-day quarantine order starting 15-05-2020 in the sense that essential travellers including returning home Spanish national and long term foreign residents (updated to include spouses) who gain entry will have to quarantine for 14 days, (see below)
All travellers from abroad must enter a 14-day quarantine from Friday 15-05-2020 as published in the BOE this morning. People must remain at home or in hotels / apartments and must limit their local travel essential such as buying food or vising chemist or doctor and must wear a mask. Travel agencies and tour operators must advise clients of these measures. Airlines will require passengers to complete a 'Passenger Location card', for contact details and the address of the quarantine. The health authorities may contact and monitor the people in quarantine. This applies to Spaniards, and foreign residents or anybody entering Spain.
The measure is only valid to the end of the current State of Alarm until 24th May, however this is expected to be extended. The current EU international travel ban is also due to be renewed or modified on the 15-06-2020 suggesting that this measure will also be EU wide. In the UK the Prime minister has also mentioned, without giving dates, the same measure will be introduced
Cross-border workers, carriers and crews, as well as health professionals who are going to carry out their work, are excepted from these measures, provided they have not been in contact with people diagnosed with coronavirus.
The Ministry of Sanidad (Heatlh) announced on 08-05-2020, the provinces that would pass to Phase One on Monday 11-05-2020.  In Andalucia Huelva, Sevilla, Cadiz, Cordoba, Jaén and Almeria provinces passed to Phase One on Monday. Malaga (which includes the Costa del Sol ) and Granada did not. In total 51% of the population of Spain will passed to Phase One on Monday 11-05-2020. Madrid and most of Catalonia will not. Phase One includes the opening of bar terraces to 50% capacity and meetings of up to ten people.
Andalucia Government has applied to Ministry of Sanidad for all Andalucia except health districts of Malaga city, Granada city, La Vega and Granada metropolitan area to move into Phase One on Monday 11-05-2020.  This decision is based on 14 criteria Link to PDF in Spanish, however the IA(14d) charts in this section are very indicative. The Ministry of Sanidad said on 09-05-2020 that they prepared to to review which provinces that can move up to the next phase on a weekly basis, however as per the original plan provinces must remain in each of the three phases for at least two weeks.
This opens the possibility that the Costa del Sol might move to Phase One on Monday 18-05-2020 (and reach the 'New Normal' by 29-06-2020). This was confirmed by Fernando Simón of Ministerio de Sanidad at his daily press conference on 09-05-2020 and explained that Andalucia submission"was a little different" from the other regions because "all had made concrete proposals with complete territorial units", whereas Andalucía had proposed six complete provinces that met the criteria and then in two provinces; Granada and Málaga, the proposal was for parts of the territory that should pass. Whilst most of Malaga prefered to blame to failure to move forward on 'political motives' and 'dealing a blow the the reputation and recovery of the Costa del Sol", Sebastian Sanchez in Malaga Hoy offered a more reasoned explanation; "Sources close to the Ministry of Health directly alluded to the fact that the Junta de Andalucia lacks a plan "to guarantee that there is no mobility between zones in Phase 0 and Zones in Phase 1 within the same province, as well as how to isolate those zones in case of a possible rebound." On 11-05-2020 Andalucia said they were resumbiting the same proposal to Sanidad in Madrid.
Read more details of the the Transition to a new Normality
Pedro Sánchez gave some more details of the phased de-escalation "Plan for the Transition to a new Normality" (Plan para la Transición a una nueva Normalidad) on his regular Saturday evening televised press conference. We have updated the de-escalation plan phase rules below. From Monday 04-02-2020 the use of masks on public transport will be obligatory. It was only recommended before, but has passed to be obligatory as there are now sufficient stocks. On Wednesday 06-05-2020 he will ask Congress for another two week extension of the State of Alarm up to 23-05-2020.
Minister for Health Salvador Illa, detailed on Thursday 30-04-2020 (and was published in BOE next morning) how adults are able to go for a walk or undertake individual sports. From 06.00 to 10.00 hrs and from 20.00 to 23.00 hrs persons between 14 yrs and 70 yrs can go for one walk a day, maximum distance from home 1km. Two people can walk together if they live together or if one is a carer, keeping at least 1m to 2m from others. This is also the time for individuals (not pairs) to practice exercise or sport ie go running or cycling. The one km limit does not apply to sport but must remain within municipality. You can not travel by car or public transport to a spot to start the 1km radius. From 10.00 to 12.00 hrs is the time for the over 70's and those needing a help. From 12.00 to 19.00 hrs is the time for children under 14 accompanied by an adult as permitted since Sunday 26-04-2020. In municipalities of less than 5.000 inhabitants the hours do not apply.
Pedro Sánchez, announced on Tuesday 28-04-2020 the de-escalation "Plan for the Transition to a new Normality" (Plan para la Transición a una nueva Normalidad) which will last eight weeks until the end of June. "there will be no movement between provinces or islands until the new normal is reached."
During all this time, successive extensions of the state of alarm will be approved allowing the Government the retain authority on actions.
Under the plan re-openings will be allowed in the Provinces (Spain is made up of 50 provinces list  Map) where the coronavirus is more controlled. Every 15 days an evaluation of the situation will be made, and new places will be added.  
On Monday 04-05-2020 a Phase 1 (see below) openings were allowed in only four small islands. Formentera (Balearic Islands) and la Gomera, el Hierro y la Graciosa (Canary Islands).
The exception will be schools, which will no longer open this academic year except in exceptional cases, such as for children under 6 whose parents have work in person.
The Ministry of Sanidad has already prepared several documents with all the health markers -up to 27- that the autonomous communities must comply with in order to start the de-escalation.
Map of Provinces and Coasts of Andalucia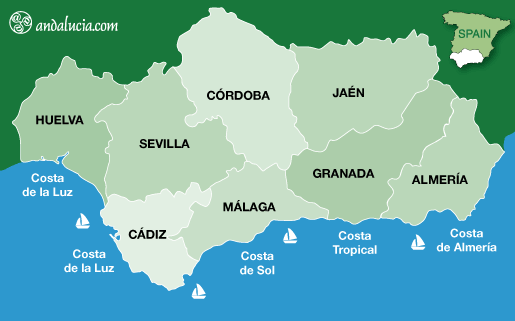 Map of the provinces and coasts of Andalucia