Andalucia is a mountain biker's paradise.
Mountain Biking in andalucia
Acres and acres of open ground. A mountain biker's paradise...
Mountain biking and cycling are viewed as both serious sports and a relaxing pastime in Andalucia. It is not unusual to be overtaken by a group of lycra-clad cyclists tackling the steep mountain roads, particularly at weekends.
Bicycles are inexpensive and you can buy a man's 21-speed mountain bicycle (bicicleta de montaña) for as little as 180 € from a hypermarket although, naturally, the quality is not as high as that available at a specialist shop.
Bicycles should be fitted with an anti-theft device, such as a steel cable or chain with a lock. Bicycles can also be rented in most larger towns and Costa del Sol resorts by the hour or day. Not surprisingly, in a country with so many hills, mountain biking is a popular sport and better quality bikes can be rented in many mountain resorts and can even be taken on specially-adapted chair lifts to the tops of mountains. Cyclists must use cycle lanes where provided (there are a growing number in Spain, especially in cities such as Seville) and mustn't cycle in bus lanes or on footpaths.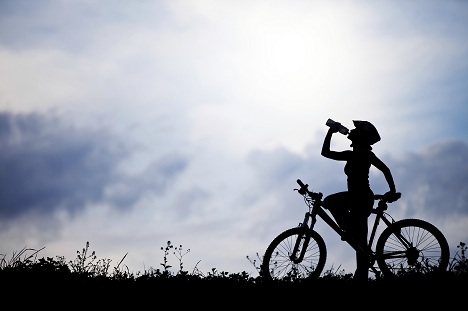 Enjoy Mountain Biking in Andalucia.
In the country as a whole, cycling is a popular competitive sport, with over 5,000 annual cycling races and events staged at all levels throughout the country.
VIAS VERDES
Another excellent option for cyclists are the Vias Verdes. These are old railways lines which have been turned into Greenways, with old stations and other buildings now serving as guest houses, restaurants and information centres. Only cyclists and pedestrians are allowed to use them, making them an excellent choice for families who enjoy cycling. Bike hire is available, along with trailers for those too small to negotiate their own wheels. There are 12 Vias Verdes in Andalucia, with routes going along coasts, over hills and through olive groves. A great way to appreciate the countryside and its inhabitants safely with friends and family, while getting fit. Read more about Andalucia's Via Verdes here.
Since Andalucia is essentially a rural region there are mountain bike routes starting from the outskirts of every town including the Costa del Sol. Routes are generally not marked. This is not a major problem and as a general rule if there is a track in the open countyside it is Ok to follow it. However to find the best routs you are advised to either reserarch routes on Wikiloc or seek guidance for local cyclists. Worth special mention is Tarifa where the local club organise weekend excursions and competitions under the name between two parks. The Gran Senda de Malaga is a 600km path in 23 stages and is idea for mountain biking. 
mountain bike races
There are a number of mountain bike races in Andaucia, of interest for both compeditors and spectators. The largest is the 'Andalucia Bike Race' which take place at the end of February each year over five days in the countryside around Jaen and Cordoba. More information on Andalucia Mountain Bike Races.
Mountain Bike Guided Tours
Buy tickets for Mountain Bike Guided Tours
Seville Mountain Bike Guided Tour
Seville Mountain Bike Guided Tour
Have a great experience on this 5-hours mountain bike guide tour in Seville. You will breath the fresh air and will enjoy with your couple, friends or your family on this fantastic tour discovering beautiful areas of Seville.

Mountain bike tour Costa de la luz Barbate Zahora
Mountain bike tour Costa de la luz Barbate Zahora
A 40 kilometer long tour through the beautiful La Breña nature park. Departure point is from Zahora. The tour goes towards San Ambrosio up a dirt road through the La Breña nature park. Once you arrive in the nature park, you follow sandy roads to the seaside town Barbate. In Barbate we stop to enjoy a delicious cup of coffee. After having gained energy, we cycle up Barbate Mountain towards San Ambrosio the small village in the middle of the nature park, this route takes us over breathtaking cliffs overlooking the sea. It's a bit of a heavy part, but arrived in San Ambrosio our lunch Andalusian style is waiting for us.

Malaga Bike Rental
Malaga Bike Rental
Discover Malaga on a bike, go to next cities or along the coast line on trekking bike, explore the Malaga Mountains on a mountain bike, cycle to White Villages on a road bike, train on a carbon road bike or just relax pedaling an e-bike. You have a wide scope of choices and you will definitely find the right option for your bike adventure in Malaga!

Destinations