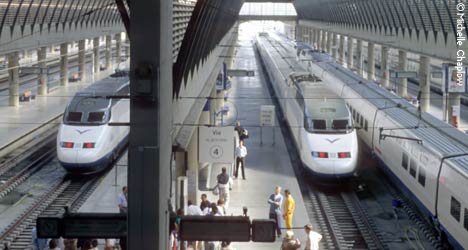 Santa Justa Train Station
RENFE TRAINS IN ANDALUCIA
Spain's modern, extensive, efficient railway system makes travelling by train in Andalucia a delight. Thanks to excellent infrastructure, comfortable trains and reliable service, more and more travellers are choosing this relaxing, ecologically-friendly form of transport in order to get the best out of their time in Andalucia. So just sit back and enjoy the view.
The Spanish railway network is run by the state-owned company Renfe (Red Nacional de Ferrocarriles Españoles). In recent years, Renfe has made a tremendous investment in Spain's railway network, particularly in the new high-speed (Alta Velocidad Española, or AVE) rail system.
Here we offer you a guide to Andalucia's convenient rail network and ticketing system.
Train Stations in Andalucia 
Here is a table which lists the AVE and other main train stations found in Andalucía.
TYPES OF TRAINS
TICKETS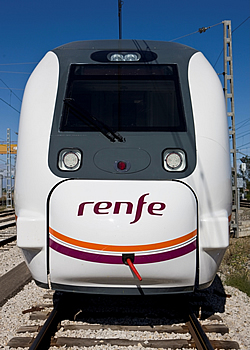 Medium distance train
It is advisable to buy tickets in advance. This can be done on the RENFE website or by an online agent whose website is fully operational in English. Andalucia.com have affiliate partnered with Trainline for online RENFE tickets.  You can also order tickets by phone, at the station itself, or at a RENFE appointed travel agent (small commission).
You can buy your ticket up to 60 days before your travel date. In the first two cases, you are either given a booking reference, which you then use to print out the tickets themselves from a machine at the main station, or you can print them out at home.

If you're travelling at the weekend or on a holiday or puente (long weekend), it is even more important to buy your ticket beforehand as the station may well be extremely busy, and seats may sell out.
If you're buying your ticket from the station on the same day you're travelling, arrive with plenty of time to spare, as queues can be long. Make sure you choose the right queue: if you're travelling within six hours, choose 'venta inmediata'; for further in advance, it's 'venta anticipada'. Also, you need to know which type of ticket you're buying. If you're sure you know what you're doing (type of ticket, service etc), you can even buy your ticket at an automatic machine.
Timetables and Tickets
Below are a selection of the most popular AVE train routes in Andalucia, click on the buttons to take you through to one of our partner's sites, input your dates and check the timetables for your trains.
FARES AND REFUNDS
Book in advance for the most economical fares; the best offers are online. Some services, including the AVE and fast long-distance services, offer a discount on the return leg of your journey.
Children under four travel free (under six on Cercanias), providing they don't occupy a seat; from aged four to eleven they get a 40% discount. If you have three or more children and live in Spain, you can apply for a "Familia Numerosa" card and obtain a 20 percent discount for all family members.
You can also find fares reduced by between 25 and 40%, for those aged under 26 years (Carnet Joven), or over 60 (Tarjeta Dorada, for Spanish residents only).
Ticket costs may be partially or fully refunded if a train does not arrive on time, depending on the cause of the delay and how late the train arrives at its final destination. Be sure to save your proof of purchase, and if your train arrives late, ask a RENFE representative for more information regarding whether you're eligible for a refund and, if so, how to obtain one.
CLASSES
The faster trains (AVE, for example - see below) offer different classes (club, preferente, turista) compartments. First class offers reclining seat, refreshments served at your seat; while both classes have audio/video on AVE and fast long-distance services. All trains are non-smoking.
PASSES
Eurail Spain-Portugal pass offers five days of unlimited travel within one-month period.
PETS AND BIKES
You can take a small pet with you on the train (cats, dogs, birds, weighing up to 6kg, in a cage measuring maximum 65x35x35 cm). Only one animal allowed per passenger. The fare is 50% of the normal tariff. You can take your bike on trains, but subject to space available.
REFRESHMENTS
Most local and medium-distance trains will have snack and soft drink dispensing machine; the faster ones also have a cafeteria service, offering hot and cold soft drinks, alcohol, snacks and sandwiches.
Lost Property
Lost property found on trains or stations is kept by RENFE for two months, Here is the lost property page on the RENFE website (in Spainsh) with contact details. It states that lost property is written into a register with their reference, description, time and date and place of discovery. The owners of these objects may request the delivery, providing that payment of the transport and any other expenses is made by the owner.  If not claimed objects are placed in a public auction. 
If lost on platforms or trains of AVE, Larga Distancia, Avant y Media Distancia Convencional send an email to [email protected]

If lost on the local 'Cercanias' trains call the following numbers:
Cádiz : 856 170 290.
Málaga : 952 128 079.
Sevilla : 954 485 672.
Disabled Facilities
Renfe Atendo service provides free assistance for railway passengers with reduced mobility or other disabilities. As a specialised service, it offers passengers guidance, information and help with access to and transit at stations, as well as assistance for getting on and off trains. Here is the Atendo service section on RENFE website. 
Different rail services offered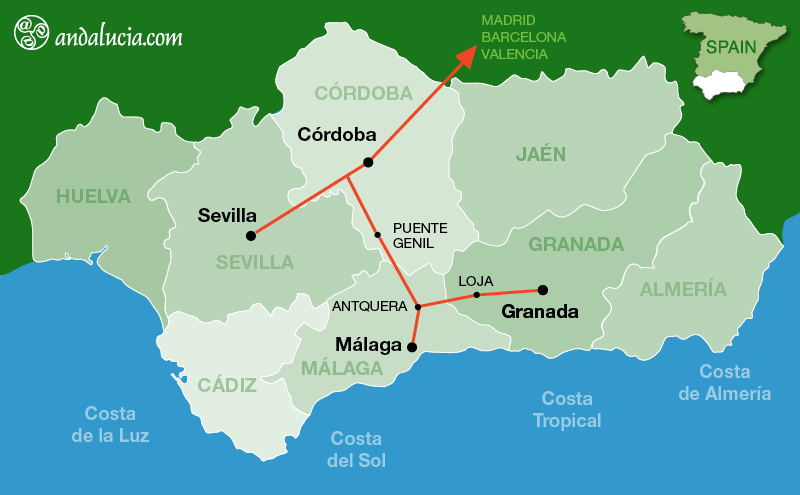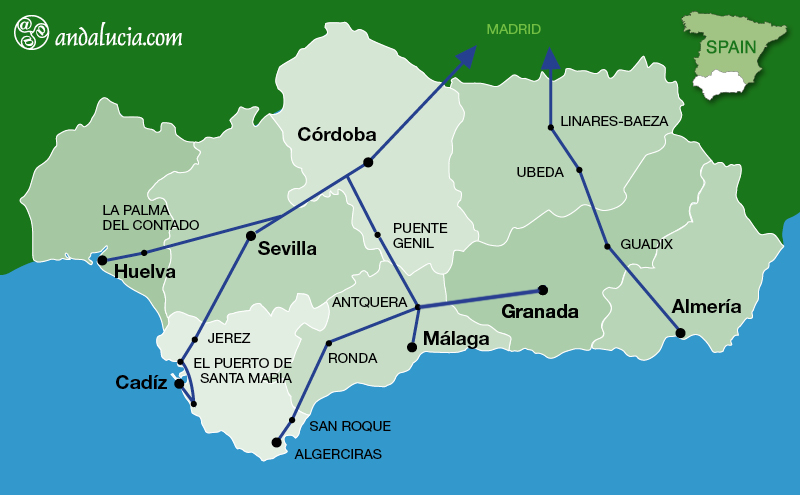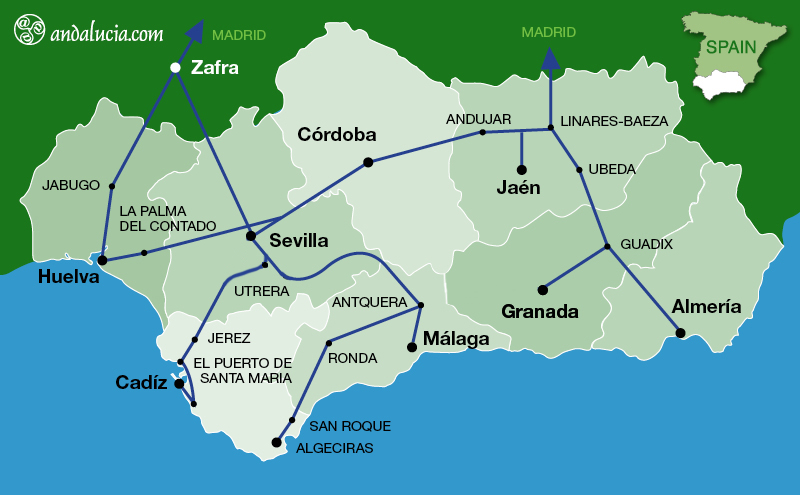 Destinations