Flights |  Car Hire |  Transfer |  Arrivals |  Departures |  Getting to and from |  Terminal facilities |  Parking |  History |  Technical info |  Videos |  Statistics
Gibraltar Airport
Gibraltar airport (IATA: GIB, ICAO: LXGB) is located about 2km from the town centre, adjacent to the frontier with Spain. The new 84m pound  terminal, which opened in 2012, is spacious and pleasant to use. It has a design capacity of one million passengers a year. There were 445.000 passenger movements in 2015. In the summer there are 37 departures a week to seven destinations.  23% of passenger are on business, 35% for leisure, and 42% visiting friends and relatives. 60% of passengers are in transit to Spain.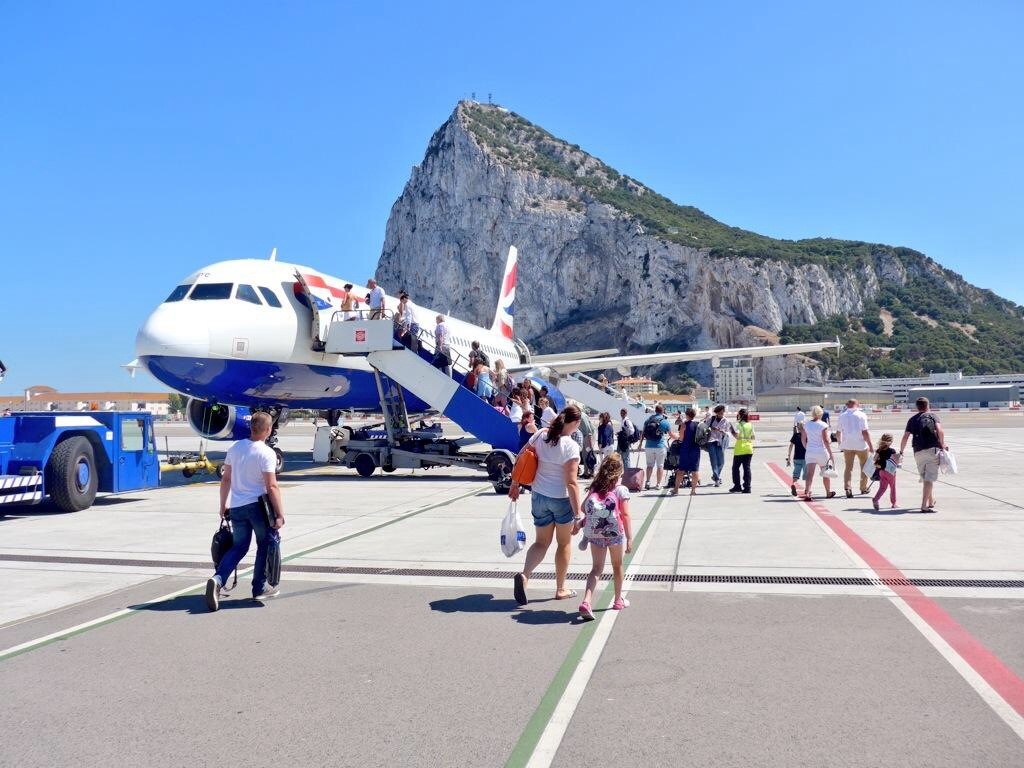 There are no telescopic air-bridge walkways, so passengers arriving and departed are treated to an iconic view of the Rock from the top of the airplane steps. Visitors can watch as planes land and passengers disembark, and wave to arriving family and friends, from the outdoor public terrace.
The airport is famous for the main access road to Gibraltar from Spain called Winston Churchill Avenue, which crosses the runway and closes for each arrival and departure. It is often ranked as one of the most dangerous airports in the world, but actually has an excellent safety record.
The road is projected to remain in place for pedestrians, whilst vehicles will enter Gibraltar town via a new tunnel at the Eastern Beach end of the runway. Work has presently stopped on this project, due to both contaminated ground and financing issues.
The planned Spanish terminal, which will include a dedicated Spanish passports and customs section, has yet to be constructed. Passengers travelling to Campo de Gibraltar and Costa del Sol must exit the airport in Gibraltar and walk or drive across the land border crossing.  
Flights
For information on airlines that have direct flights to and from Gibraltar More >
Search Flights to Gibraltar
Book Flights to Gibraltar GIB
Car hire
There are a number of car hire car companies with desks at Gibraltar airport with cars available in Gibraltar and spanish registration plated cars available for collection just over the border in La Linea, useful for those travelling in Spain. More about Car hire at Gibraltar airport >
Destinations