FEDERICO GARCIA LORCA GRANADA-JAEN AIRPORT
Airport Code: GRX
Ctra. De Malaga, S/N, Santa Fé, 18329, Granada.
Tel: +34 95 824 52 00
Live flight arrivals and departures information.
Granada Airport, situated in the area known as "Vega del Genil" or plains of the River Genil 16 km west of the city of Granada and 106 km south of the city of Jaen. It traditionally handled national flights to Madrid and Barcelona but recently has expanded with a number of international flights from low cost airlines.
The first recorded flight at the Santa Fe location was in 1911 to celebrate Corpus Cristi. In 1922 the town hall donated the land for the construction of a permanent facility which was opened in 1925 and named Aeródromo Dávila in memory of Luis Dávila Ponce de León. The first regular scheduled service was to Seville.
The present single terminal building was opened in 1972. The airport has a single runway, 2,900 m long by 45 metres wide named 09 - 27 and an apron with twenty-five aircraft stands, of which eleven are for commercial planes. 2007 was Granada airport's peak year and recorded 1,467,000 passenger movements (departures plus arrivals).
Flights
For information on the airlines that have direct flights to and from Granada-Jaen Airport and certain cities, see our flights page. More >
Search Flights to Granada airport
Book Flights to Granada GRX
Arrival and Departure times
On this page you will find a list of live arrival and departure times for Granada Airport. More >
Hotels near Granada Airport
There are no hotels adjacent to the airport. Obviously greatest selection is the Granada city hotels 10 km away. There are a few in the small town of Santa Fe about 4km from the airport.
Book Hotels near Granada Airport
Bus service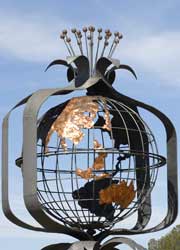 Granada Airport
There are several departures a day for buses to the city centre. There is also a summer only coach service direct to Jaen. 
More>
TAXI
There are taxis available at the airport. The cost is about 17 EUR to the city. 25 EUR to the Alhambra, 63 EUR to the Sierra Nevada Ski resort.
CAR PARK
Car parking is available for 450 cars. For the first half hour the price is 0,40 €; second half hour 0,50 €; and each additional hour or fraction is 0,90 €; Maximum daily up to four days is 9,00 €; thereafter 7,20 € per day. Lost ticket 45 €.
CAR HIRE
Hiring a car is best way to get around! Travel with ease and enjoy the beautiful views! Consult our general Car Hire page for the best deals within Andalucia. There is a convenient petrol station 500m from the airport on the access road.
Destinations