Walking
The simplest and most obvious way to sight see in Granada is to walk. There are numerous guidebooks that can advise you on walking tours, and there is always the option of hiring a guide to take you around the city sights. You might even visit the tourist office to get a suggested route. However Granada is a big city, with a lot of hills, and a lot of things to see, and if you are under time constraints you might consider one of the following options.
Bicycle
Seeing Granada by bike is a great, eco friendly, energetic way to get around. There are numerous places around the city centre to hire bikes, most offer both hourly and daily rates. Hiring a bike means you can get from place to place much quicker, and so you can fit more into your day. Some bike hire companies will even give you the option of a guide.
If a regular bike seems too energetic for your trip then Granada also offers the option of electronic bikes, to give you that extra boost you might need to get you to the top of Alhambra Hill, or up the Sacromonte. Some of these tours also run at night.
Hop on Hop off Train

The tourist train has a green day-time 14 stop route including the Alhambra palace and a night time route which does not include Alhambra. Both routes include city centre and the Plaza San Nicolas in the Albaicin and entrance to the Sacramonte. The train starts at 09.30 and finishes at 19.30 and runs every 20minutes. Audio guide in twelve languages and free WiFi. Cost is 8€ for one day and 12€ for two days. Ticket valid on day (and following day for two-day pass) of first use and not 24hrs.
The Green day route includes the Alhambra entrance but at the end of the circuit. Make sure you leave plenty of time if visiting the monument. After visiting the Alhambra the train is an ideal way to rest tired legs and skip the walk back down to the town or walk up to Plaza San Nicolas and Albaicin.
Segway
If you want to see the city in a new and modern way then there is always the option of a Segway. A Segway offers a more relaxed and easy way to travel around the city centre. Most segway companies offer guided tours. There are some that also do night tours.
Taxi
You can hail a taxi in the street, or find them in one of the many taxi ranks around the city.
Between 07:00 and 22:00 Monday to Thursday and 07:00 and 21:00 Friday - The initial price is 1.40€.
The price for each additional kilometre is 0.76€
The minimum price is 3.71€
Waiting time is 0.32€/minute
Between 22:00 and 07:00 Sunday to Thursday, between 21:00 and 00:00 Friday, and all day Saturday and fiestas - The initial price is 1.76€.
The price for each additional kilometre is 0.96€
The minimum price is 3.71€
Waiting time is 0.41€/minute
Buses
Granada's bus station is at Avenida de Juan Pablo II, 3 km north west of the centre. All services operate from here except for a few to nearby destinations such as Fuente Vaqueros and Viznar. Consigna lockers are available and there's a large cafeteria. Services run from the bus station into the city, and there are buses frequently travelling around the city to the suburbs, see timetables for details.
There is also the option of sight seeing bus tours. A number of companies operate within Granada city centre and take you all the main sights in the area. Some even give the option of getting on and off the bus to look at the monuments.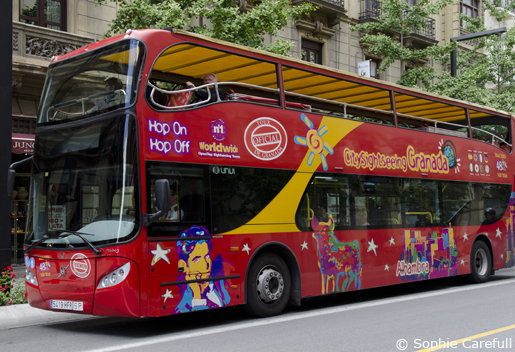 Explore Granada on a double decker tour bus, you can even hop on and hop off!