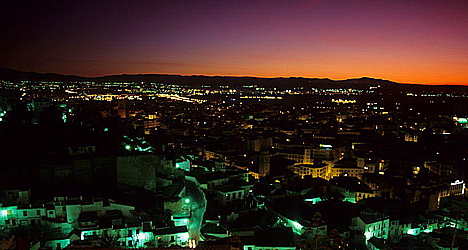 Granada Nightlife
The nightlife in Granada is some of the best in Andalucía. As a world-famous university city, it has a large amount of students, so there is a very eclectic mix of venues and music on offer. From electro, to pop, to rock music; in Spanish, English and Irish bars, you will always find somewhere to suit your musical or atmospheric taste.
The bars of Granada are well-known for their free tapas - all you have to do is order a drink and they will bring you a tasty morsel. Many of the bars also have offers on for a caña (small glass of draught beer) and tapas for €1.50 or €2. Just ask when you arrive, or check out their specials board before you enter. The most famous areas for tapas are Plaza Nueva, and also in Plaza Bib-Rambla (next to the cathedral) where in the summer months there is the option to sit outside, within the square - both squares are lively and popular areas, right in the heart of the city.
Drinks other than the selected offers can be expensive here, due to the location, but you get the added bonus of a view of some famous monuments plus a great atmosphere - coupled with table service and the option of ordering some nibbles if you get hungry later on. In and around Plaza Bib-Rambla you can also do some late-night shopping as many the shops stay open well into the evening.
Just off the Plaza Nueva is the Calle Elvira, one of the busiest streets in the city for bars and pubs. There is only one club on Calle Elvira, called Granada 10. This is an old movie theatre which has been converted into a club, with lots of character and that unique, quirky fun factor. It plays pop and dance music. Drinks here are expensive as it's in a tourist area, though reasonable compared to other clubs. This area is at its liveliest during the summer season.
One of the streets leading off Calle Elvira is Calle Calderia Nueva, a street known as La Calle de Las Teterias (The Street of the Tea Rooms). This whole street is lined with Moroccan tea rooms - ideal if your perfect evening is a few quiet drinks (or a nice brew) in a chilled-out place lined with candles and incense, and sofas, beanbags, or floor cushions to sit on.
If you are a student, or on a tight budget, and you want a more typically local experience, then Calle Pedro Antonio is the place. This entire street is lined with bars, pubs and clubs and is teeming with students all year round. The drinks here are around half the price of other areas, and the majority offer free pipas (salted sunflower seeds) or nuts for you to nibble on whilst you drink. The atmosphere of these bars is much more casual, so do not expect table service.
For later in the evening on Calle Pedro Antonio (or earlier in the morning), try asking a local: they can point you in the direction of a club to suit your musical taste, and often they will send you somewhere more interesting and exciting than your guidebook. Be aware that Calle Pedro Antonio is a 25-minute walk from the centre. A taxi before midnight will cost you around €5.50 but after, the fare goes up to €9.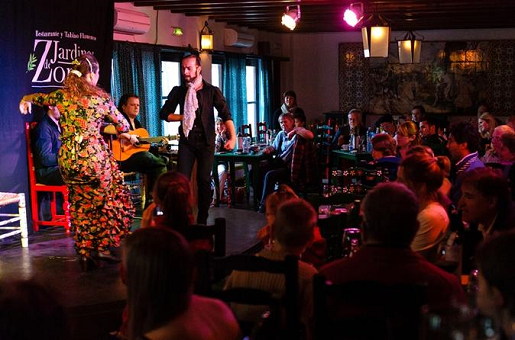 Flamenco Show - Jardines de Zoraya - ALBAYCIN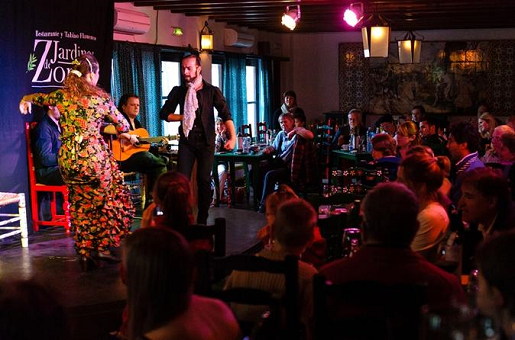 Watch as two flamenco dancers perform at an atmospheric tablao in the Albaycín neighbourhood of Granada, and listen to the passionate sounds of a guitar player and flamenco singer.  
Duration: Flexible -  20  €

Flamenco Show - Jardines de Zoraya - ALBAYCIN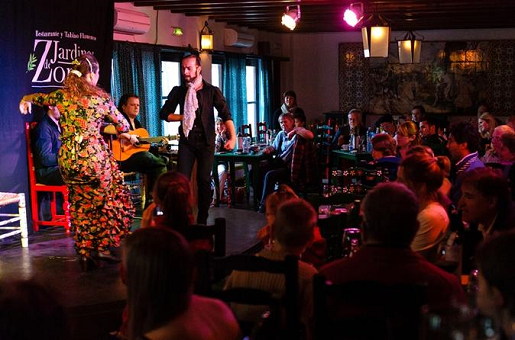 Watch as two flamenco dancers perform at an atmospheric tablao in the Albaycín neighbourhood of Granada, and listen to the passionate sounds of a guitar player and flamenco singer.    With 3 course dinner.
Duration: Flexible -  inc Dinner 49  €

Flamenco Show at Sacromonte Caves in Granada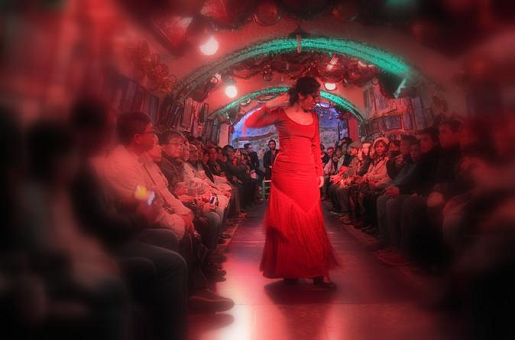 Enjoy a flamenco show with great music that covers the essence of flamenco paying homage to its oldest roots. The show is pure and genuine flamencowith music that will elevate you to levels of unknown pleasure.  
Approx. 75mins -  35  €

Flamenco Show - Venta el Gallo - Sacramonte with Optional Dinner
Experience an authentic 'zambra' (gypsy flamenco) show at one of Sacromonte's famous cave venues. Depending on the option selected, sip on a glass of sangria or tuck into three tantalizing courses of local cuisine.  
Approx. 1 to 2 hrs -  35  €

Flamenco Show - EL TEMPLO del FLAMENCO - ALbaycin Cave Restaurant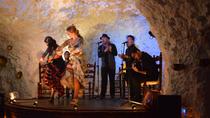 Flamenco Show in a Cave-Restaurant in Granada
Prepare for passion and magic in this flamenco show, that takes place in a cave-restaurant located in Granada. This century-old cave is possibly the most impressive cave dedicated to Flamenco, as much for its lighting and elegant décor as for its size. Enjoy a drink, tapa, or dinner as the dancers move about the stage. Approx 1.5 hrs - 26 € 

MUSIC BANDS & CONCERTS

Granada has a large number of bands that play at different concert venues arount the city. Larger venues are the Auditorio Manuel de Falla, Palacio de Deportes de Granada, Palacio de Congresos y Exposiciones de Granada and smaller venues are Sala Tren, Cafe Tertulia, Sala Booga Club.  To check what is on an purchase tickets click on the button on the right hand side. 
The best part of the nightlife in Granada is that, if you get hungry on the way home, the streets are filled with take away restaurants offering delicious Moroccan kebabs and pitas.
Destinations