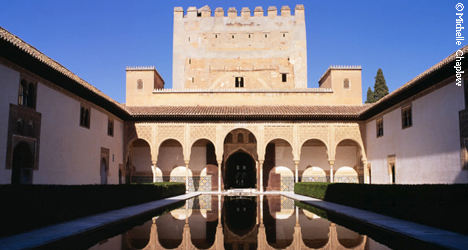 UNESCO WORLD HERITAGE SITES IN ANDALUCIA
GRANADA
Categories: urban landscape, Medieval European
What UNESCO says: "Rising above the modern lower town, the Alhambra and the Albaycín, situated on two adjacent hills, form the medieval part of Granada. To the east of the Alhambra fortress and residence are the magnificent gardens of the Generalife, the former rural residence of the emirs who ruled this part of Spain in the 13th and 14th centuries. The residential district of the Albaycín is a rich repository of Moorish vernacular architecture, into which the traditional Andalusian architecture blends harmoniously."
What there is to see:
* The Alhambra (added to list in: 1984)
The most romantic building in the world, and Spain's top tourist attraction (book tickets well in advance), full of exquisitely decorated palaces with hidden courtyards. Exhibitions, and outdoor plays and concerts in summer.
* The Generalife (added to list in: 1984)
Country estate and summer palace of the Nasrids. Outdoor concerts in summer.
* The Albayzin, or Albaicin (added to list in: 1994)
Atmospheric hillside Moorish neighbourhood, with many carmens - town houses - converted into beautiful hotels and restaurants; great views of the Alhambra.