CAR HIRE ITINERARIES
In this section we have suggested some itineraries that you can use as a base for tours in Andalucia. These itineraries also link together many other information pages.
As always the greatest problem is how to fit so much in a limited period of time and have a holiday as well rather than win an endurance award. You will need a good map. Michelin Map 446 (Southern Spain) and 578 (Andalucia) are both excellent, or alternatively, to avoid all that folding, there's a handy spiral-bound (though less detailed) Michelin road map of Andalucia. See link to buy map online from Amazon on right hand margin of this page.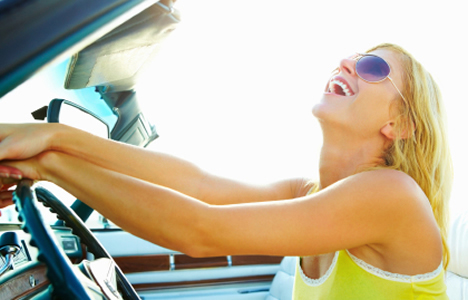 CAR HIRE ITINERARIES - TO AND FROM AIRPORTS
When you arrive in Andalucia, you may well choose to hire a car, for greater freedom and independence. There is so much to see, in terms of scenery - from beaches to mountain ranges, and fields with row after row of trees - olive, orange, lemon and almond; culture - flamenco, bullfighting, Semana Santa; architecture - the Mezquita, Alhambra and Giralda, monuments to Moorish days.
The small towns on the way to wherever you're going will often provide a fascinating taste of the real southern Spain, an authentic view of what life is like in Andalucia away from trendy tapas bars and designer boutique hotels. Horses and carts, herds of goats, old men on pre-war motorcycles - all reminders that many Andalucians are still tied to the land in a way which seems incongruous beside the solar farms and busy motorways of 21st century Spain. Watch out for the iconic roadside bull as you travel around Andalucia.
Here we offer some suggested itineraries for you to follow in your hire car, from day trips when just want to hire your car for 24 hours - if you're based in a city and prefer to come back so you can sleep in the same hotel and enjoy the buzzing nightlife, for example - to complete week-long adventures, where you collect your hire car at the airport and set off. Before you set off, make sure you have a good, detailed map, such as a Michelin, plenty of stay drinking water, and a torch.
There are five international airports in Andalucia, and we've created itineraries from each:
Aracena (HUELVA)
Three superb, half day or full day itineraries from Aracena:
Heading to east and then north in the Sierra are some of the least visited villages of the Sierra, located on the perimeter of the Sierra and Andalucía. Take the N-433 towards Seville from Aracena… More →
This route mainly follows the N-433. Starting with the ruined castle in Aracena: follow the signs to the Castillo (castle). You can drive up the hill and park at the top. The church is usually… More →
This route passes through some of the prettiest villages in the Sierra de Aracena and woodland typical of this area. Leaving Aracena going west towards Portugal on the N-433, the road goes past… More →
INLAND FROM COSTA DEL SOL
A suggested routes inland form the Costa del Sol:
If you want a break from the clamour and crowds on the Costa then explore Mijas, Alhaurin, Coin, Monda, Ojen and also Istan. The scenery is quite spectacular and the roads are well-travelled, yet… More →
One-Day-Itinerary to explore the countryside around the towns of Ronda and Gaucin. This route starts at San Pedro de Alcantera, just past Puerto Banus, and ends up just a few kilometres down the… More →
BACK PACKERS
A suggested Itinerary for the backpacker without a hire car is outlined by Lee Gutcher who also who offers advice for backpackers.
RUTAS
The various tourist boards have also created a number of themed tourist trails or routes called "Ruta de" in Spanish. These highlight attraction of a specific interest, such as castles, wine, Romans, Moorish, all over or just part of Andalucia and 'join the dots' for you to make a route. Ideal to follow and you will have an adventure on the way.
CAR HIRE
Hiring a car is best way to tour Andalucia. Travel with ease, stop where you want and enjoy the beautiful views!. We have a page about every village including things to see. Consult our general Car Hire page for car hire tips and advice on rental groups, insurance excess, young drivers, DVLA code, fuel policy and security, plus links to a range of car hire companies. Check out our specific car hire pages in each of our airport and main train station pages. Malaga Airport Car hire, Gibraltar Airport Car Hire.