Car Hire Itineraries from Seville Airport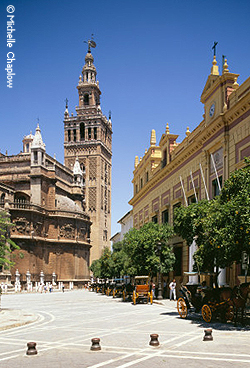 Seville is a fantastic base to explore Andalucia.
From Seville airport, you can head straight up into the Sierra de Aracena, a beautiful and little-known part of Andalucia. Visit a British-influenced mining town where football and golf were first played in Spain, and find out about this fascinating colony. You can also head to Cordoba, an easy two-hour drive, and then to Granada - with Seville, the three major historic Moorish cities of Andalucia.
Hire a car is best way to get around! Travel with ease and enjoy the beautiful views! Consult our general Car Hire page for the best deals within Andalucia.
Itinerary: Seville - Cordoba - Madinat Al-Zahra - Granada - (2 to 7 days)
Leave Seville heading east on the A4 to Cordoba city, you can stop off at Almodovar del Rio to see its magnificent… More →
Itinerary: - Seville - Monasterio La Cartuja - Sierra de Aracena - Rio Tinto - Punta Umbria - Huelva - (2 days)
In Seville, go to the Isla Cartuja and see the Monasterio de Santa Maria de… More →
Destinations