Overview of Malaga City
It is easy to understand why Malaga City is capital of the Costa del Sol. Once considered the poor cousin of Andalusia's capital city, Seville, it now competes successfully for attention, thanks to its profusion of quirky museums, delightful pedestrianised centre, innovative restaurants and stylish hotels, many featuring trendy rooftop terraces with bar, pool and stunning views. Muelle Uno is a contemporary leisure complex in the port - the arty district called SOHO is brings a bohemian edge to the city.
The opening of the Picasso Museum in 2003 triggered the city's cultural rebirth, and visitors are now flocking to this port city which boasts excellent transport, top-class cuisine and fascinating monuments, from Moorish and Roman times through to modern day - while retaining its authentic Andalucian feel. Whether you are visiting from a cruise, a weekend break or as curious Costa del Sol visitors, you will be pleasantly surprised by this intriguing city.
See and do
travel
More about Malaga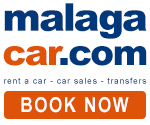 Professional car hire services at Malaga airport. All-inclusive prices, book your car online and pay on arrival - without cancellation fees!
Long-standing local company in Malaga provides bus transport in Malaga, Andalusia and Spain. Private Golf and Wedding transfers and tours to places of cultural interest.
MUSEUMS
Malaga has more museums than any other city in Andalucia; over 30 at last count - and new ones are opening all the time. The latest is the long awaited Malaga Museum for those interested in archaeology and Fine Arts.  Learn about the city through its wine, at the Wine Museum; its social history and customs, from the collection of 19th-century paintings at the Carmen Thyssen museum; and its famous local personalities, such as the painter Felix Revello del Toro. For more art and design delights, you can visit museums of contemporary art, archaeology or glass; while fashion is covered, together with cars, a clever gender-balancing combination. 
Climate
Sea breezes from the Mediterranean coastline regulate the summer heat to a more comfortable level than inland Andalusian towns, while the Malaga Mountains form the perfect barrier to protect the city from colder weather in winter. However, it is still hot in July and August (30C), though mild (minimum of around 13°C) between December and February. Some much-needed rainfall is to be expected in the cooler months, but it usually does not usually last for long.
Beaches
Thanks to the year-round magnificent weather you can nearly always go to the beach in Malaga. From family-friendly beaches such as 'El Palo' to manmade beaches such as 'La Malagueta', there are sandy stretches for everyone on Malaga's coast.
Monuments
In addition to homage to the great Picasso, other great historic monuments include the imposing Baroque Cathedral, popularly known as 'La Manquita' (One Armed Woman), and the newly restored Roman theatre. High on the hill above the city is the Parador (state-run hotel), which is situated in the Gibralfaro Castle. This is a wonderful place to either stay the night or have a long lunch in these fascinating surroundings, with panoramic views over Malaga city and out across the port to sea.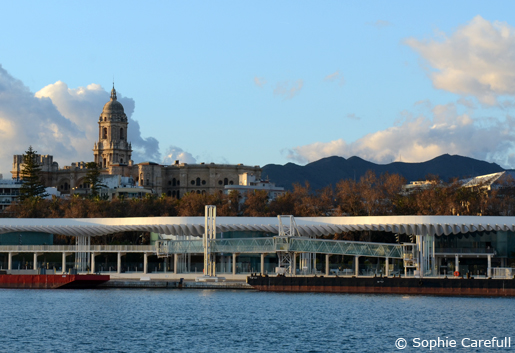 The Baroque Cathedral and contemporary port development.
Although there has been a certain amount of destruction here over the centuries, especially during the Spanish Civil War, there is still plenty of evidence of the Moorish occupation. Today you can visit the Moorish Alcazaba fortress, dating back to 1065, which also now features a very interesting archaeological museum, as well as the Castillo de Gibralfaro, another Moorish castle. Read the History of Málaga. There are also many churches of great architectural and historic interest in and around the centre, which are well worth visiting.
Shopping
The city is not only the perfect place to explore many historical monuments, atmospheric little streets and squares with delightful café culture, but it is also an excellent shopping centre. The main street to head for runs perpendicular to the stunning tree lined avenue, the Alameda, and starts at the Plaza Marina, near the port. Calle Marqués de Larios (often simply referred to as 'Larios') was pedestrianised with marble in 2002 and spearheaded improvements to the city centre. The result is a bustling, pedestrianised chic area with many boutiques, designer shops and classy cafes, all surrounded by beautifully restored buildings. More>
FESTIVITIES
Many festivals are celebrated throughout the year in Malaga, such as the International Jazz Festival (at the beginning of November) and Film Festival (held early in March). The main venue for these and other such events, as well as excellent theatre and music, is the beautiful Teatro Cervantes (Cervantes Theatre). See Malaga Festivals.
Eating and Drinking in Malaga
You'll find no shortage of places to eat and drink, from top-notch, Michelin-starred restaurants to the most humble tapas bar, and everything in between. Calle Larios is a good starting point. If you find yourself in a chiringuito (beach bar) in the El Palos district a few km east of the centre, then the traditional espeto (skewer) of sardines cooked outside over hot coals is not only delicious, but also an integral part of the healthy Mediterranean diet. Many other delicious fresh fish dishes are available on most menus and generally at very reasonable prices.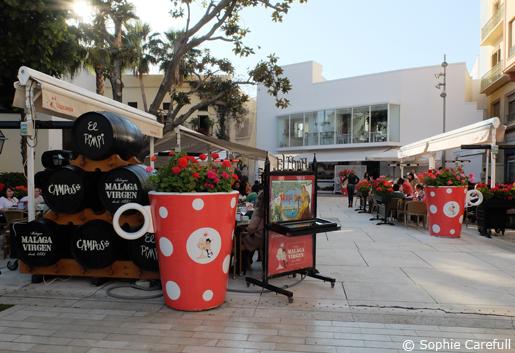 The area around Plaza de la Merced is great for restaurants.
Nightlife
The fabulous Malaga nightlife evolved from once being a thriving port to now being one of the most stylish and beautiful cities in Spain. Anything from piano bars, fun clubs or cocktail bars can be found here in the nightlife section. More >
Sightseeing
A great way to get an overall impression of the area is to hop on and off the Malaga Tour Bus. The whole tour takes under one and a half hours and is well worth the price of 15 euros per adult. The Tour Bus ticket also includes a free voucher for bus transport to the beautiful botanical gardens on the outskirts of Malaga, Jardines de la Concepcion, on the main road to Antequera. The city also has many beautifully-kept gardens worth seeing.
Getting Around
Here you have plenty of options for getting around the city, such as the bus service which also offers both local and national services. Alternatively, you can hire a car, which offers more flexibility than public transport, though at a higher cost.
You don´t have to travel far from Malaga city to encounter a bit of rural tranquility. A mere 2km north of the centre are the immense pine forests of the Montes de Malaga Natural Park.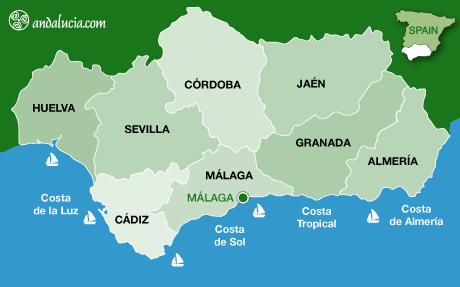 Destinations