Malaga City train station
Malaga - María Zambrano train Station opened in 2007 as a Vialia sponsored station on the site of the original 1863 station. It is situated on Explanada de la Estación in the South West of the City Centre. It is next door to the Bus station, approximately 2 km from the Malaga port and 9 km from Malaga Airport. Malaga Airport is connected to the station via Cercania services. The station has eleven tracks, Numbers 1 to 5 standard guage tracks for the AVE service, 7 and 8 the Iberian broad guage tracks for the medium and long distance services. Line 9 connects to the port, lines 10 and 11 are the underground level for the Cercanias (local) service.
Timetables and Tickets
Below are a selection of the AVE train routes from Malaga - María Zambrano train station. Click on the buttons to take you through to one of our partner's sites, input your dates and check the timetables and tickets for your trains.
Arrival and departure info
Live arrival and departure information for Malaga Maria Zambrano trains can be looked up on this ADIF page.
Ammenities
The station actually has a four star hotel inside, (Hotel Barcelo Vialia) it also has a VIP lounge, check-in facilites, car hire offices, a travel centre, underground parking, public toilets, lost property office, bicycle parking, tourist information centre. You can also find an ATM machine, cafes, bars, a taxi rank and its very own commercial and leisure centre with a host of retail shops. The station is entirely accessible. 
Lost property Office
Located in the 'Oficina Supervisor Comerical' and open daily 06.00 to 22.00 hrs. Contact by email: [email protected]
Shopping Centre
Within the station there is a 30,000 square feet of shopping centre, which has about 50 different stores, including a cinema with ten separate theatres. As the station is open every day, most of these shops are even open on a Sunday. Fashion shops include Pull & Bear, Springfield, Cortefiel, Swarovski, Saxo, Lola Rey, Calzedonia, Primor, Media Maekt. Service shops include Post Office, Vision Lab, Phone House.
Station plan
Station plan for Malaga Maria Zambrano trains can downloaded as PDF from ADIF website.
Drop off
There is a 10 minute drop off bay at the front of the station which is often full at peak times. ther eis also a 15 minute free allowance is available for short stay pick up and drop off in the Saba car park under the station. Use the 'Entrada 1' for this drop off.
Parking
There is a large 24hr car park under the station managed by Saba which is very convenient for those taking trains as it is about five minutes from car to train.  The cost is 1,95 € per hour (charged per minute) which is expensive if you will be away for any time.  A 24hr discount price of 24,95 € is available only if purchased from the office at time of arrival. AVE Club or Preferente train tickets include first 24hr (single) or 48hr (return).   A 15 minute free allowance is available for short stay pick up and drop off. Use the 'Entrada 1' for this drop off. 'Entrada 2' which is located a little further along Calle Mendivil, (the road along the north side of the station) is more convenient for parking.
A more economic alternative is to use private parking outside the city centre (near the airport) and use their transfer service to the station , and meet and greet on return. This is particularly attractive if  leaving the car more than a day. Car park with transfer to Malaga train station.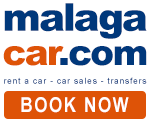 One of the few car rental company at Malaga Railway Station. Book online for collection at Malaga Maria Zambrano railway station.
Services & Destinations
There are a number of services that operate from Malaga Train Station:
AVE high speed train
Madrid to Málaga from 2 hrs 30 min, every 60-120 mins, stops at Cordoba, Antequera and Puente Genil
Barcelona to Málaga  from 5 hrs 40 min, two services daily, stops at Tarragona, Zaragoza, Cordoba, Puente Genil and Antequera.
Fast Long Distance  
Malaga to Valencia from 4hrs 30min, one service on Fridays and Saturdays, stops at Antequera Santa Ana, Puente Genil-Herrera, Cordoba, Puertollano, Cuidad Real, Cuenca Fernando Zobel, Valencia Juaquin Sorolla.
Fast Medium Distance (Avant)
Regional Trains
Malaga to Sevilla from 2hrs 30 mins, five trains daily stoppping at  Alora, Las Mellizas, El Chorro, Bobadilla, Pedrera, Osuna, Marchena, Dos Hermanas, San Bernardo, Seville Santa Justa.
Malaga to Ronda 2hrs, one per day, stopping at  Cartama,  Pizarra,  Alora, La Mellizas,  El Chorro, Bobadilla, Campillos, Almargen, Ronda.
Buy your Train Tickets Online
for any of the above routes. Andalucia and Spanish train tickets online in English language. Obtain either eTicket by email or paper tickets by post. Includes seat reservation when available.
Local Trains
For information on trains from Malaga Airport click here.
Local Bus
Local bus route numbers 1, 3, 4, 5, 10, 12, 16, 19, 24 and 27 stop in from of the station. The main Malaga bus station is next door to the train station.
Hours
Station Opening Hours - 5:00 to 00.45 daily.
Tel: 902 240 202 / 902 432 343
History
The original station was the terminus of the 'Sociedad del Ferrocaril de Malaga a Cordoba' inaugurated in September 1862 by Reina Isabel II and the two buildings either side of todays main concourse are preserved from this time. The  original ornate iron and glass 1863 facade by Antonio Arriate was removed in 2004 and as protected work  is intended to be re-erected in a nearby location.  Major reconstruction works were carried out from 2004 to 2007 in preparation for the arrival of the AVE service. The present spacious concourse is where the original train lines and platforms terminated.
When re-opened with the AVE service in 2007, the new station was officially called 'María Zambrano' after the philosopher María Zambrano born in Velez-Málaga. 'Malaga' was added back into the name of the main station signs in 2011.
Location
Address: Explanada de la Estación, S/N, 29002 Málaga
Destinations