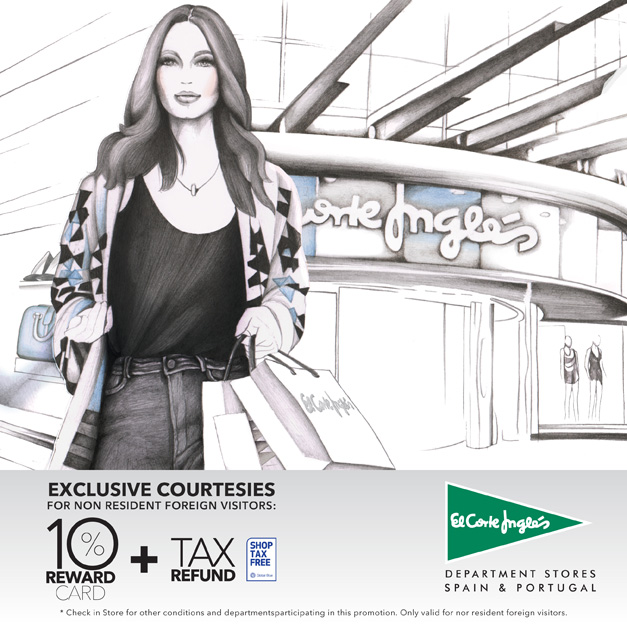 Shopping in Malaga city
by Josephine Quintero
Shopping in Málaga is a fascinating mix of the old and the new. Years ago shopping for the malagueños was a fairly parochial, low-key affair but economic booms and the increase in tourism, has resulted in more contemporary and chic shopping options, including international chains and shopping malls.
If this all sounds worryingly anonymous, don't worry. Málaga is still home to plenty of small idiosyncratic shops, many of which have been in the same family for several generations and seem to charmingly thrive on selling just one or two specialties. It is this diversity in era and style that is one of the great aspects of shopping here; the fact that right next to a cutting-edge designer boutique you can still find a stuck-in-a-time warp haberdashery buzzing with elderly ladies scouring racks of buttons, bobbins and bows. In addition there is an increase in enterprising individuals opening interesting and unusual new shops that would be quite at home in New York or London.
Head for the city's shopping heart: Málaga's swanky shopping street, Calle Marqués de Larios is traffic-free and luxurious with glossy marble pavements and expensive shops. On either side are alleyways and tiny squares and a number of boutique shops  churches and museums, all within close range. Atarazanas, Malaga Central Market is absolutely not to be missed. This whole area is now pedestrianised. 
Even if you don't plan to buy, Larios is a window-shopping wonderland. All the major Spanish retailers are here, including Mango (Marqués de Larios, 1) selling smart streetwise women's fashion and evening wear. More fashionable threads can be found just down the street at Blanco (Puerta del Mar 13). This Spanish chain sells savvy urbanwear, plus spray-on-style tiny T-shirts and funky outfits for clubbing. Be warned that the sizes here range from extra small to small!

Spain's famous department store El Corte Inglés (Avenida de Andalucía, just west of river by Puente Tetuan and Alhameda) is the multi-storey mix of just about everything, including shoes, perfume, fashion, homeware, furniture electrical goods, computers and mobiles and food.
El Corte Inglés at Centro Comercial Malaga, Avenida de Andalucia 4 & 6, Malaga. Map Tel: 952 076 500.
El Corte Inglés at Centro Comecial Bahia Malaga, Calle Hamlet, 2, Malaga. Map Tel: 952 357 001
Open Monday to Saturday 10:00 to 22:00 hrs.
For Shopping Lovers
Download this voucher and present it in printed or in digital format at the Tourist Information desk (Punto de Información al Turista) in any El Corte Inglés to enjoy your Welcome Gift Shopping Experience. Consult full conditions at El Corte Inglés.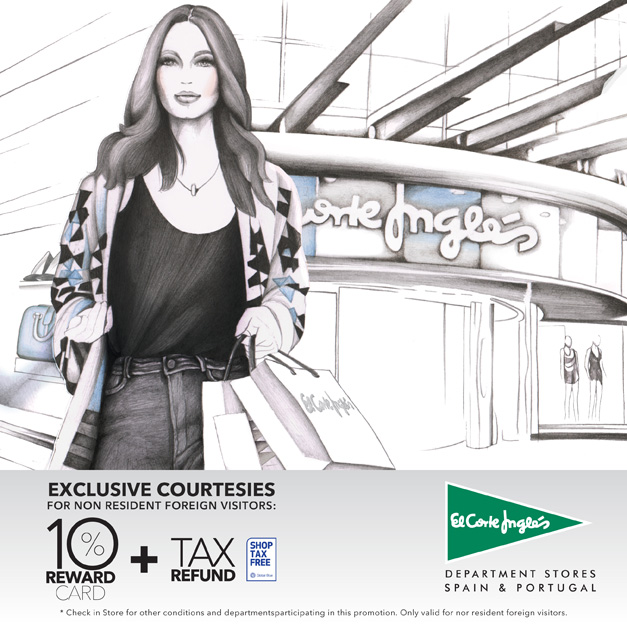 El Corte Inglés, the leading department store in Europe, with more than 80 branches in Spain and Portugal, is one of the most exclusive for its great range of national and international brands. A place where you can find more than 1,500 brands, from the best souvenirs to the most exclusive fashions and accessories, perfumes, jewellery and luxury goods.
For your full enjoyment, we have designed the best Shopping Experience orientated to the international tourist and rewarding your visit to our Centros Comerciales with incentives with benefits.
A Reward Card with 10% discount on your next purchase.
VAT TAX FREE return for those resident outside EU.
Welcome drink and tapa.
City map.
Free parking and more.
Download this voucher and present it in printed or in digital format at the Tourist Information desk (Punto de Información al Turista) in any El Corte Inglés to enjoy your Welcome Gift Shopping Experience. Consult full conditions at El Corte Inglés.
For stylish men's fashion, Massimo Dutti (Marqués de Larios 4) is where Málaga's elegant, 30-something man heads when he wants a special-occasion suit or similar, well cut with very little synthetic materials used.
Although leather goods are not quite the rock bottom bargain they used to be in Andalucía, check out the new Autumn range of handbags, briefcases and custom accessories at Martín Sáenz (Marqués de Larios 2) - if the weather catches you out, you can pick up a classy umbrella here as well - (always a good gift in the UK)
Nobody likes to wear a pair of shoes for more than a season in this town, which is why there is a spoilt-for-choice number of shoe shops around. Nicolas (Marqués de Larios 3) is one of Andalucía's best-loved shoe chains with a great range of fashionable footwear for stepping out in style. For less expensive shoes head to nearby Cache (Puerta del Mar 3) which has a good range and year-round sales.
Malagueños like to shop, almost as much as they like to eat and the good news is that here, they can do both. Throughout the city, you can buy fresh roasted almonds from street vendors and, during the winter months, chestnuts and sweet potatoes are sold by stout aproned women. Málaga is also home to some superb delicatessens selling typical Spanish goodies which make great gifts for around the tree.
Malaga wine is comparable to sweet port.
In Plaza de la Constitucíon (which leads into the old centre from Larios), the Café Central (Calle Santa María 2) has a next -door deli selling all kinds of savoury and sweet treats, including turron; the classic Xmas confection based on almonds and honey. Across the square Mallorquina (Calle Sagasta 1) sells Jamon Serrano (ham) for around 35 euros a kilo and wedges of aged and crumbly Manchego cheese. Across the road, a second-branch Mallorquina, (Plaza de Felix Saenz 7) is where to pick up a few bottles of sweet Málaga wine. A favourite tipple among Victorian ladies in England, this rich raisiny wine is similar to a sweet sherry and was first made here in 600 BC by the Greeks. Don't just palm this off as a good gift for Gran, Málaga wine is comparable to port and makes a great Christmas pud accompaniment.
Olive oil is another popular purchase in Andalucía, but is not usually associated with the bathtub! Hand-made soap based on olive oil is the sudsy speciality at En Jabon Arte (Calle San Juan 33) with 'flavours' including pineapple, cinnamon and chocolate.
For something far more traditional, head for a business that has been in operation since 1724: Cerería Zalo (Calle Santa Maria 10) - near the tourist office - is a heady shop that sells religious incense, perfumed candles, Jesus figurines and similar. For more good smells, Espejo Hermanos (Plaza Constitucíon) has the full monty of cosmetics and perfumes.
Spanish ceramics make great gifts and Cerámica Fina (Caller Coronel 5) has a vast showroom choice ranging from hand-painted thimbles to decorative plates, tiles, religious plates and wall lamps. For something less fragile to pack, Málaga has several shops that sell beautiful hand-painted fans. At Ceylan (Calle Nueva 2), they also sell exquisite mantons (shawls), stitched by hand in pure silk (around €555) or the cheaper machine-made picos (a smaller, triangular version) from just 18 euros.
Finally if you fancy the foot-stomping señorita look, Málaga can easily compete with Seville in the frilly frock department. Viva La Fería! (Calle Cisneros 4) has several racks of dresses, with prices ranging from around €180 to €600 and more. El Rocio (Calle San Juan) and La Castañuela (Calle Cisneros 8). And for the flamenco guitar accompaniment, Málaga Musical (Calle Compañia 33) have long been one of the city's most respected outlets for traditional Spanish guitars.
One area worth visiting for its interesting, independently-owned boutiques, is Calle Andres Perez, close to Calle Molina Lario. This was formerly a run-down part of town, but is now great for browsing original fashion and interiors you won't find elsewhere.
You can find organic clothing at Color Hueso (no 7) - simple, stylish clothes in natural fabrics. Owners Angela and Teresa have filled their store with a treasure trove of dresses, accessories - bags, jewellery - in a homely, uncluttered interior.
Antiques at Patio Almanzora (no 5) - upcycled and vintage goods - with exhibitions of old postcards and advertising artwork as well as contemporary pieces. Quasipercaso (no1) is strong on 1970s dresses, as well as sunglasses and (new) swimwear.
For beautiful handmade jewellery, try Pebbles & Chance (Calle Santa Maria 13) - unusual imaginative pieces, such as cage rings and silk wrap bracelets, as well as embroidered and embellished bags, scarves and beachwear.
Shopping Centres
The city has several indoor commercial shopping centres, such as Malaga Plaza Calle Armengual de la Mota, 12, just behind the landmark building of the huge quality department store, El Corte Inglés. The Larios Centro is at Avenida Aurora, 25.  Centro Comercial Rosaleda  Avenida Simón Bolíva. Muelle Uno, the waterfront open-air shopping mall offers a contemporary shopping and dining experience by the marina. The Plaza Mayor is a large out of town 'Andalucian style' popular shopping centre near the airport. More>
Opening Hours
Whereas previously, the city used to follow the southern tradition of keeping the siesta time sacred, more and more shops are now open all day. Most of the smaller, family-run businesses will still lock up for a long lunch. But the commercial shopping centres, El Corte Inglés and many of the shops in and around Calle Larios stay open all day, to meet the demand of residents and, especially, tourists who enjoy the freedom of longer shopping hours. During the July and August and leading up to Christmas and Kings Day (6 January) many specialist city centre shops, such as El Corte Inglés department store, are allowed to extend their hours to open on certain Sundays. Shops in the heart of the city centre and at Muelle Uno in the port can be open all Sundays.
Destinations