Malaga City Churches
Iglesia de los Martires
Founded in 1487 and dedicated to the martyrs of the town, this pretty church features a striking Mudejar town, as well as a richly decorated baroque style interior, which includes a sculpture by Franciso Oritz.
Iglesia de Santiago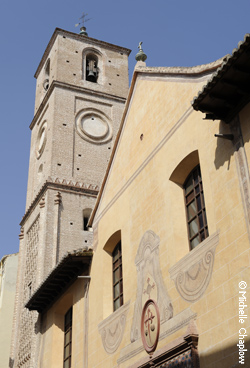 Church of Santiago, Picasso was baptized here
Founded in 1490, this church is noted for its tall Mudejar style steeple and baroque interior which contains some notable chapels. Pablo Picasso's baptismal certificate is on display here.
Iglesia del Santo Cristo de la Salud
The interior of the 17th century church is very attractive with a stunning altarpiece and beautifully decorated cupola.
Iglesia San Juan Bautista
Founded in 1490, the church's baroque style tower above the main entrance was added in 1770. Inside are several fine chapels and a rich altarpiece. The 17th century figure of San Juan is the work of Francisco Ortiz.
Santuario de la Victoria
The church was erected in 1487 on the site where the Catholic Monarchs pitched their tents during the siege of that year. Its main feature is the magnificent retable which rises above the main altar. In the crypt is the family vault of the counts of Buenavista who were responsible for the rebuilding of the church in the 17th century.