by Chris Chaplow
Plaza de la Merced is one of the best squares to visit in Malaga. Located at the top end of Calle Granada which is the minor (but none less interesting) continuation of major Calle Llarios at Plaza de la Constitution. The square is a popular meeting place in the evening and open air events take place here from time to time.
On the north side of Plaza de la Merced are a number of pavement cafes which become popular in the afternoons due to their orientation to the sunshine. On the north corner is the house where Picasso was born in 1881, now a museum. One block west from here is the Teatro Cervantes.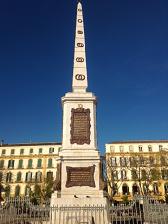 Obelisk in the centre of Plaza de la Merced
In the centre of the Plaza de la Merced, lookout for an neo-classical obelisk which was placed here by the town hall in 1842 (replacing a fountain) in memory of General Torrijos to commemorate the "49 victims, who for their love of patriotic liberty where sacrificed in this city on the 11th December 1831" on the four sides of the obelisk can be read the names of the 49. Look out for the rather un-Spanish sounding Mr Robert Boyd. The story of this hapless revolution is told in Malaga history. It is worth noting that terrorists become heroes in 11 years.

The square was originally called Plaza del Mercado and later Plaza de Riego in memory of the liberal General. Its current name derives from a church and convent located in the north west corner "Iglesia y Convento de Nuestra Señora de la Merced" built in 1507 which did not survive the burning of the convents in 1931 and was demolished in 1964.
Jacaranda tree in flower in the Plaza de la Merced.

The square was renovated in 1857, in 1988 and again in 2011-3 and retains its nineteenth century image. Contemporary historians and photographers will find the derilct Cines Astoria y Victoria on the east side interesting. Threre have been numerous failed attempts to reform this building including one in 2017 by Antonio Banderas.
parking
There is an underground car park nearby called Alcazaba ( 2,50 euro and hour). It is best accessed from the road tunnel under the Alcazaba from roundabout General Torrijos at the end of Paseo del Parque. Alternatively after driving through the square and out past Picasso's house and the back of Theatro Cervantes on Calle Refino there is a private parking garage on the right hand side for 1.60 euro an hour.