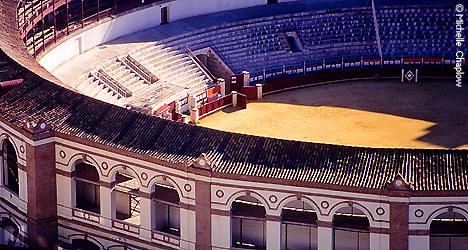 Malaga Bullring
History of La Malagueta
La Malagueta itself was built in 1874, by the architect Joaquín Rucoba. The first fight took place on 11th June 1876, and the matadors who fought were Rafael Molina, Antonio Carmona, Luque El Gordito, and Manuel Rodriguez. A century later in 1976 the site was declared an Historic Artistic Monument, and in 1981, it was declared an Official Site of Cultural Interest.
La Malagueta today
The plaza de toros is currently owned by Fernando Puche Doña, (former president of Málaga Football Club) and the toreros, Javier Conde and Francisco Rivera Ordoñez. The stadium seats 14,000 people and measures 52m in diameter. It has four corrals, stables for the horses, a ménage for training the horses, dressing rooms for the matadors and their assistants, an infirmary, and its own museum celebrating the history of the site - Museo Taurino Antonio Ordoñez.
The bullfighting season runs from April to September every year, with the highlights at La Malagueta taking place during Semana Santa, and the Málaga's August Feria . In the last weekend of Semana Santa is the Corrida Picassani, which is marked by a series of conferences and lectures about bullfighting, as well as children's activities and competitions, whilst there are two bullfights on two consecutive days. Málaga also celebrates the Feria Taurina in July and August each year, during which time there is a fight almost every day.
Little-known facts about Bullfighting
A Matador's skill is measured by his proximity to the horns of the bull, his fearlessness in the face of danger, the grace and speed of his movements, and his ability to kill the bull as swiftly and cleanly as possible.
It is a common misconception that bulls are drawn to the colour red; they are, in fact, colour-blind. They are drawn to the cape of the Matador because it is a large moving object, irrespective of its colour.
Tickets
Tickets are available from UniCaja banks in Málaga, or from the box office at La Malagueta.
Opening hours
The bullring is open between April and September, from 10:00 - 14:00 and 18:00 - 20:00, and during the August Feria from 10:00 - 20:00 uninterrupted.
Location
La Malagueta is situated in the eastern part of Málaga old town, close to the Castillo de Gibralfaro, from where you get a great view of the bullring.
Address: La Malagueta, Paseo Reding, 8. Málaga 29016.

Tel: 952 221 727
Destinations