Jerez - Sherry, Horses, and Flamenco
Located inland, 20 km from Sanlúcar, Jerez holds worldwide acclaim for its sherry and brandy production. The word Jerez is derived from Arabic and has now become synonymous with the English word 'sherry'. The city is equally famous for its fine horses as well as Flamenco music and dance.
The town dates back to Moorish times and possesses a charming old town, casco antiguo, with beautiful palm lined squares. The 11th century Moorish fortress, or Alcazaba, has been partially restored. Of special interest is its church, originally built by the Arabs as a mosque. The Sacristy of the Cathedral del Salvador is home to a lovely painting by Zurbarán, La Virgen Niña. Today the city of Jerez has a remarkably aristocratic air with wide streets, squares and magnificent rows of jacaranda trees during spring.
Sherry
The sherry production houses are located, surprisingly, in the centre of the town of Jerez and are generally associated with an element of snobbery and aristocratic pride even to this day.
The Spanish word bodega means "cellar", but its generic meaning is "wine manufacturer". Visitors take guided tours of the many Jerez bodegas, such as Gonzalez Byass, Pedro Domecq and Sandeman. British winemakers have been active here for centuries, which is why many of the names have an Anglo-Saxon ring to them. Tours of the cellars take place on week days, followed by sampling of the various types of wine produced.
Flamenco
Jerez is famous for its long - standing Flamenco tradition, making it an excellent place to watch this great art . The Flamenco festival of Jerez (traditionally last week in Feb and fist week in March) is one of the most important in the world, with two weeks of phenomenal music and dance from internationally renowned performers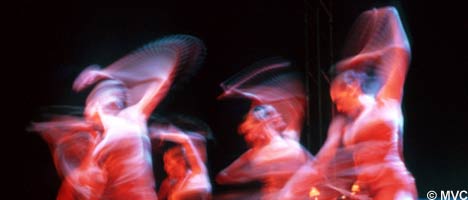 Flamenco dancing is centred around the Barrio de Santiago which faces the cathedral. On the Plaza de San Juan, the Andalucian Flamenco Foundation can be found within a stylish eighteenth century mansion, the Palacio de Pemartín. Here you can learn something of this Andalucian dance form and visit the museum with audiovisual presentations. Flamenco can also be seen at Bar Arco de Santiago, Calle Barreras, 3 or La Taberna Flamenca, Angostillo de Santiago, 3, Jerez de la Frontera.
Jerez Tourist Information Office is located at Alameda Cristina - Edificio Los Claustros - 11403 Jerez. Tel. 956 324 47. The office is open from Monday to Friday, from 10:00 am to 3:00 pm and from 5:00 pm.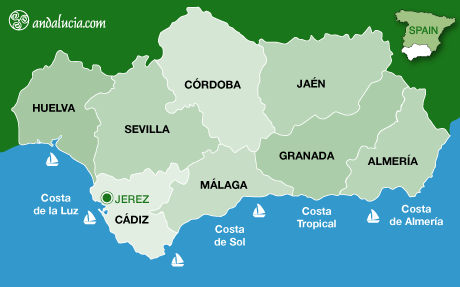 Destinations