Jerez Wines
Jerez de la Frontera, Sanlucar de Barrameda and El Puerto de Santa María form a triangle of generous land where the vine has reigned from time immemorial. Some of the earth's most singular wines are produced here.
Around 1830, the González Byass company was established in Jerez by Manuel María González Angel who had an uncle who lived in Sanlúcar de Barrameda. Unlike Jerez, where sweet wines were preferred at the time, the inhabitants of this village liked their wine very pale and very dry. So when this man came to visit his nephew, he brought along with him a few casks of his favourite beverage, soon nicknamed "Uncle Joseph's wine" which in Spanish translates as "Tio Pepe's wine". Very soon this wine was to become famous all over Jerez and, in time, would achieve universal recognition.
At the time, Manuel María González was one of the few Jerez wine merchants born in the region. Rising demand, particularly from Britain, and a recent edict allowing free introduction of foreign capital to the area had attracted names like Domecq, Osborne, Gordon or Terry from all over Europe. Many families had also come from the north of Spain.
These merchants not only sold wine, they also produced it. In Jerez, everything is deeply related to the land and the exceptional type of soil essential for the delicacy and personality of the vintages. Its name is albariza, a very white chalky marl which forms a hard crust in summer beneath which moisture is trapped. The area is fortunate to receive rain when it is needed the most, in the autumn after the dry summer months and during the spring just before flowering time.
This means that the region is almost a paradise for vines which have names as beautiful as Palomino and Pedro Ximènez. The Palomino grape is white and its origin dates back to the Phoenician era. It is the mother of all Jerez wines. When pressed, it provides a must with a lively fermentation with all sugars transformed into alcohol. The result is that Jerez wines are naturally dry. The exceptional smoothness of some of them is due to a strong natural content of glycerol. Sweet Jerez wines, often called "cream" or amoroso, all have a strong base of Palomino and owe their sweetness and their aromas of chocolate, spices or candied fruit, to a proportion of Pedro Ximènez. Before being pressed, these grapes are exposed to sunlight until they achieve almost the consistency of raisins, thus resulting in a rich sugaróconcentrated nectar.
The elaboration of the pale dry sherry, called vino fino in Spain, also contains a considerable part of mystery. Some time after the first fermentation, at the beginning of winter, the wine suddenly becomes clear and bright. It is then transferred to oak casks where it starts to define its personality in a very original and singular way. A veil of yeast, the flor, starts to build up spontaneously on its surface, becoming thicker in spring and autumn. As the contents of each cask develops on its own, they are classified according to the vigour of the flor and then alcohol is added up to 155, the level at which yeast keeps on developing. If the flor in some casks is not sufficiently active, it is caused to disappear by adding alcohol up to 18. Then it is allowed to mature softly until it becomes an oloroso full of aroma.
Great wines not only mature in Jerez, but are also nurtured. This is done by adding a certain quantity of younger wine to a specific already mature wine. This is known as the solera system. Let us imagine four rows of casks placed on top of each other. The row containing the oldest wine is called solera (located on the ground). To meet an order, a small quantity (never more than a third) is extracted from this row and bottled. This is substituted by an equivalent quantity taken from the row immediately above the first criadera. The process continues until the last row is filled with the current wine. The young wine progressively takes on the characteristics of the older wine until, after a few months, the content is exactly identical to what it was before the transfer. In Jerez there are no good or bad years, but wines which, within their type, are uniformly similar in taste, aroma and colour while quality is absolutely constant in time. Very good reasons for achieving international recognition.
Enjoyed before or after a meal, very dry or very sweet, served with shrimps or with ice cream, Jerez wines need very gradual first contacts to be savoured to the full. Give them patience and tranquillity. They will give it back to you a hundredfold.
Sherry -  Fine more information about Sherry in our Gastronomy section.
Jerez Wine Cellar Tour and Tasting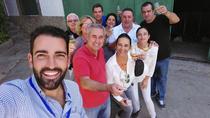 Jerez Wine Cellar Tour and Tasting
Winery of international prestige and endorsed by all means of communication. To visit our winery is to enter a unique world, by the hand of our host Jose Luis, charismatic and a professionalism endorsed by numerous awards for his work in onology. Explore one of the oldest wineries in Jerez on this 2-hour PRIVATE tour of the senses. Journey off the beaten path with your knowledgeable and friendly guide. Taste the unique wines produced in this area that boasts some of the best fortified wines in Spain.

Full Day Sherry Wine Experience from Jerez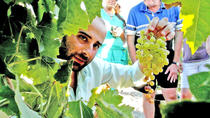 Full Day Sherry Wine Experience from Jerez
Discover the secrets of Andalusian wine on this private sherry wine experience. Learn about sherry production vine-to-glass, and discover the tastiest sherry and tapas pairings. As birthplace of this ancient wine tradition, the city of Jerez is a destination to be enjoyed with the five senses. The tour concludes with a tour of city center.

Jerez Historic Guided Tour with Winery Visit and Tasting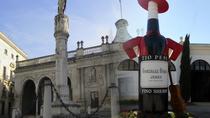 Jerez Historic Guided Tour with Winery Visit and Tasting
Discover the history and culture of Jerez during this 4-hour guided tour and wine tasting. A professional guide will lead you through the streets of Jerez, offering insight into the stories behind its streets, squares, buildings, and monuments. Then get a glimpse of modern-day Jerez culture with a visit to a famous local winery. Learn about the production of wine and brandy and enjoy a delicious tasting. The tour will end with a trip to the winery's gift shop, where you can purchase bottles to take home.

Private Tabancos Guided Tour in Jerez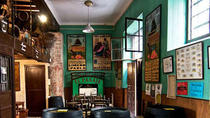 Private Tabancos Guided Tour in Jerez
Embark on a truly Andalusian adventure during this 3-hour private tabancos tour in Jerez. Learn about the interconnected relationships of sherry wine, flamenco dancing, and Spanish tradition during this guided walking tour. Stop at three or four tabancos, a kind of traditional Andalusian tavern, for samples of unique tapas and various sherry wines. Along the way, learn more about Jerez's famous landmarks, including its impressive cathedral and 12th-century Alcazar. This private tour offers a more intimate look at Spain's unique cultural traditions.