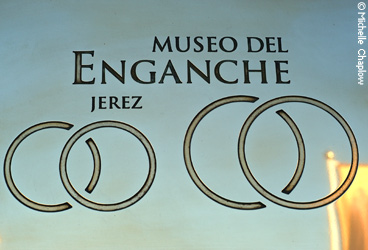 Real Escuela de Arte Equestre
Located in a magnificent 19th century mansion designed by the architect of the Paris Opera - Garnier. Training sessions may be watched and there is a tour of the stables. An ´Equestrian Ballet´ also takes place on Thursdays (and some other days, depending on the month).  More>
SHERRY BODEGAS (WINERIeS)
It is well worth taking a visit to one of Jerez's many sherry bodegas (literally cellars, but also used to mean wine producer and winery), from the mighty Gonzalez Byass, to the smaller ones such as Harveys. You can see how, and where, the five different types of the famous fortified wine are made, usually in huge cathedral-like buildings lined with barrels, including the all-important blending, even the making of the barrels, and then taste them for yourself. More>
Cathedral of San Salvador
This Baroque-Gothic building dates from the 18th century  - it was the last Baroque church built in Spain - and was built over a mosque. It is renowned mainly for its 14th century figure of Christ and Zurbaran's painting 'La Virgen Niña'. Plaza de la Encarnation.
Arab Baths
Date back to the time when Jerez was part of the Caliphte of Cordoba. Iglesia-Convento de Santa Domingo reflects a peculiar mixture of architectural styles but originates from the time of the Reconquest.
Open Mon-Sat 11.00am-13.30 and 17.00-20.00. Free entrance.
Museo de Arte Flamenco
18th century building with a vast collection of musical instruments which cover the history of flamenco. Audio visual presentations hourly.
Palacio de Penmartin, Plaza de San Juan 1. Free entrance.
Museo de Reloj (Clock Museum)
Impressive collection of more than 300 clocks dating from the 16th to 19th century which make quite a din if you happen to be there 'on the hour'. The museum is also famous for its peacocks, which unfold their stunning feathers among the stately gardens.
La Atalaya Palace, Calle Lealas. Tel+34 956 182100

Parque Zoologico
Has botanical gardens and a park in addition to the zoo.
Calle Taxdirt. Open Tues to Sun all year.
Destinations