Real Escuela de Arte Equestre
For a real performance of the most noble and classical kind, no one should miss the magnificent stallions of the Real Escuela Andaluza del Arte Ecuestre, the Royal Andalusian School of Equestrian Art, whose spirited performances take place on Thursdays (and some other days, depending on the month) at the riding school, adjacent to the historic 19th century Palacio de las Cadenas, in the sherry town of Jerez de la Frontera. There are tours of the 60 stables arced round a cobbled courtyard and a wonderful tack room, with harnesses and tack worn by all the performing stallions, some of it dating back to the 18th century.
The school also has a practical role in training horses and horsemen in doma va quera and doma classica - dressage, coach-driving, blacksmithy and the manufacture and care of harness.
Visitors may watch a show on these days:
Jan and February: Thursday
March to July: Tuesday and Thursday
August and September: Tuesday, Thursday and Friday
October to December: Tuesday and Thursday
Additionally, there are shows on some Saturdays.
The show stars at 12.00. Alternatively you can watch training taking place on other days of the week. Tickets for the show cost between  21 and 27 euros each.
The Carriage Museum is open Mon to Fri from 10.00 to 16.00 (Saturdays when there's a show 10.00 to 15.00) and admission is 4.50 euros. A "half tour" of the estabishment is available on days when the show is taking place and costs 6.50 euros and a "themed visit" on days when the show is not taking place and costs 11 euro.

Tickets may be purchased at the ticket office at the school which is open from 09.30 to 11.45. Vouchers may be purchased on line below and exchanged for a ticket at the ticket office up to one hour before the show saving time and ensuring entry for this popular show.
ANDALUCIAN DANCING HORSES SHOW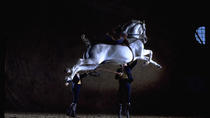 Unique show, "How the Andalusian Horses Dance", is an equestrian ballet accompanied by quintessential Spanish music and 18th century styled costumes. Based upon Classical Dressage, Doma Vaquera (country-style riding) and traditional equestrian chores. At Fundación Real Escuela Andaluza del Arte Ecuestre. Tuesdays and Thursdays 12.00 hrs  90 min show. 
Tickets from 21 Euro.

Contact
Tel: 956 319 635
Location
Avenida Duque de Abrantes s/n
Destinations