Costa de la luz (cadiz) destinations
Appropriately christened the Costa de la Luz (Coast of the Light), the Atlantic shoreline of Cadiz province have many wild and windswept beaches, with its strong winds making Tarifa the foremost windsurf and kitesurfing site in Europe.
Considerable stretches of the coast are particularly noteworthy for their wealth of wildlife, including the extensive Bahía de Cádiz Natural Park, covering the beaches and wetlands of Cadiz Bay; the Estrecho Natural Park along the Strait (Estrecho) of Gibraltar from Algeciras to Bolonia, including a significant marine section; and the Breña and Marismas de Barbate Natural Park, the coastal cliffs and pine forest between Los Caños de Meca and Barbate as well as Barbate´s saltmarshes.
Being so close to the Strait of Gibraltar means that the province is an ideal place for birdwatching during periods of migration between Europe and Africa, and whale watching. The age-old practices of almadraba tuna fishing is practised on this coast.
Destinations
PARKS
Encompassing a 10,522ha flat landscape of sandy beaches, marshes, salt pans, freshwater lakes and tidal inlets, as well as the two natural areas of Isla del Trocadero and the Marismas de Sancti… More →
Created in 1989, the Breña y Marismas de Barbate park is Andalucia's second largest coastal reserve and has one of the most spectacular stretches of rocky cliffs along the Andalucian Atlantic… More →
Created in 2003, the Parque Natural del Estrecho is the southernmost protected area in Europe. It is made up of a long stretch of coastline covering 18,931ha from Cabo de Gracia in the west near… More →
Hotels and Holiday Rentals
If you want unspoilt, wild beaches, the Costa de la Luz is for you. From the trendy wind and kite-surfing spot Tarifa, this Cadiz coast stretches to the Guadalquivir river estuary is a haven of… More →
If you want unspoilt, wild beaches, the Costa de la Luz is for you. From the trendy wind and kite-surfing spot Tarifa, this Cadiz coast stretches to the Guadalquivir river estuary is a haven of… More →
Map of the 8 Provinces and the Coasts of Andalucia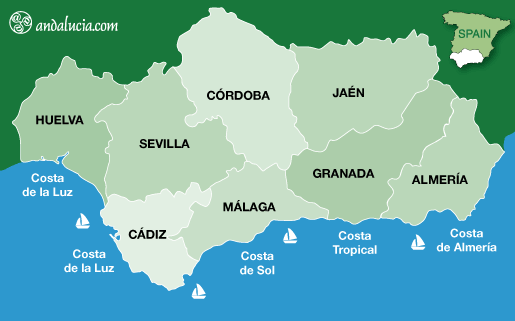 Map of the 8 Provinces and the Coasts of Andalucia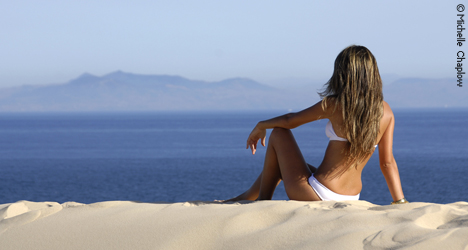 Destinations