Vejer de la Frontera
If you are exploring the N340 Costa de la Luz coast road, you'd be wise to make time for a wander around Vejer. This classic white village on the hilltop is well worth a visit. It is actually 10 kilometers inland, perched high above the steep gorge of the River Barbate.
The more interesting arrival is from the outpost at the bottom of the ravine called La Barca de Vejer. From here take the steep road up the escarpment and straight into the beautiful Plaza de Espana, undoubtedly one of the prettiest village squares in Spain. The town square, shaded by vast palm trees, has a wonderful old fountain with traditional ceramic Andalucian frogs, which spout water high into the air, thus forming a fountain. If you are lucky, park the car in the plaza. If not park on the road leading up to the plaza and walk back.
From the plaza enter the old walled town through the arch (Arco de la Villa). This stunning castellated town is a magical place to explore, its quiet cobbled streets meandering through a charming jumble of secret corners, hidden patios and delightful houses. One is relieved to find barely a hint of plastic or a trace of the 20th Century. Even the rubbish bins appear to have been carefully designed to please the eye!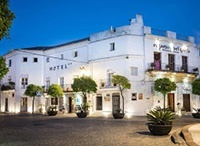 Vejer's landmark hotel, which since its founding in 2001 has become a favourite place to stay in Andalucia for travellers and Spaniards alike. The Califa's origins date back to the 10th century. An ideal place from which to explore the Atlantic Costa de la Luz and the 'Sierras' of Cádiz.
Plaza 18 is a six bedroom luxury hotel in the heart of Vejer's medieval quarter and adjacent to the palm-filled Plaza de España. Enjoy a tranquil stay in a house that feels like an elegant home, with panoramic views from the terrace and full use of the adjacent Hotel Califa's facilities.
The village has been officially declared an Historical Artistic Monument of National importance.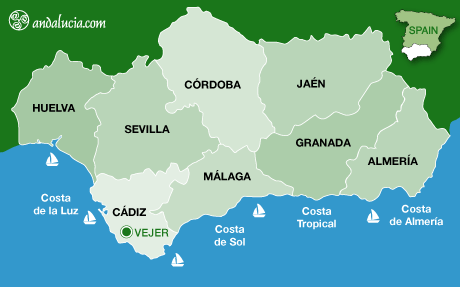 Destinations