Puerto Real
Take me to: Puerto Real Hotels
Nestling in the triangle of busy main roads between El Puerto de Santa María, San Fernando and Cadiz is an area known as the pulmón verde of the Bay of Cadiz. Puerto Real lies with the sea and marshes to one side and extensive pine forests to the other.
Much of the municipality forms part of the Natural Park of the Bay of Cadiz. This environmentally protected region is an ornithologist's delight, being a permanent home to a wide variety of birds including grey herons, cormorants, plovers and ospreys, and the temporary habitat of many more. Many of the estuaries are used for fish farming, especially the San Pedro River, along the sheltered banks of which the inhabitants of Puerto Real come to enjoy a day out.
Numerous archaeological remains have been discovered in the region, the oldest, El Retamar, dating back to Neolithic times. Roman ovens have been uncovered in the centre of Puerto Real and also a great quantity of amphorae used to transport to other regions of the Roman Empire the wine, salted fish, and the locally-made garum, a type of fish paste. In the area of Puente Melchor the ruins of a Roman villa were found including a large mosaic of the god Bacchus.
The village of Puerto Real was officially established in 1483 by royal charter from the 'Catholic Kings'. Traces of its Renaissance foundations can still be seen in the checkerboard layout of the central streets in the old quarter which has been declared of Historic-Artistic Interest. It is here also that various faculties of the University of Cadiz are located.
Gastronomy
The gastronomy of Puerto Real focuses on all kinds of seafood such as prawns, shrimps, clams or crabs and from the estuaries, sole, sea bass and bream. Partridges abound in the neighbouring campo and one of the recipes for which the area is known is perdiz a la piñonera, made with pine nuts collected from the local forests. These tasty delights and many others can be found especially in restaurants along the length of the Playa de la Cachucha, a favourite place for locals and visitors.
The Spring Fair in Puerto Real, originally a cattle fair and one of the oldest in Andalucia dates back to the mid-19th century. It is held in the Parque de las Canteras and now includes a multitude of attractions. Festivities honouring the patron saint, the Virgen de Lourdes, take place on 11th February and, towards the end of September, there is the Feria de la Tapa, a popular gastronomic feast.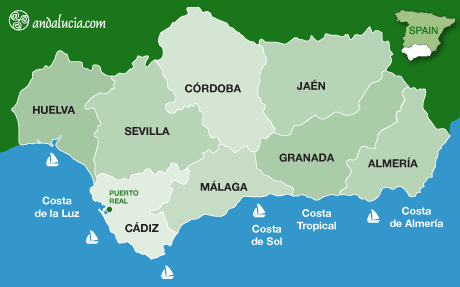 Destinations